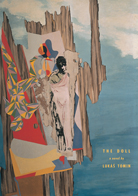 [ excerpt ]

the doll
by Lukáš Tomin

Set somewhere in Europe, The Doll interweaves the stories of three couples in search of transcendence. At the center are two children, Cathy and Thomas, who travel to Spain to erect the largest doll in the world — a symbol of aspiration that diminishes as the work progresses. Grotesque descriptions of sex and drunkenness illustrate the futility of any form of striving toward a goal. A nod to the greats of Modernism, The Doll is a swirl of languages, hallucinations, and visions that create a dreamlike atmosphere of mystical import.



What others say:
A visionary work, by an extraordinary and important young writer. As cultures and languages mix and merge, Tomin meets the subsequent literary challenge head on, and actually makes this reader hopeful about the future of the Novel.
— Fay Weldon


The Doll is a sensuous and melodious flow of words that Tomin has mercilessly dragged out of his subconscious ... The result is somewhere between prose and poetry.
— Prognosis


Twisted Spoon's very first publication remains one of their most extreme: Lukas Tomin's The Doll. Tomin leaves his characters half-drawn for much of the book, forcing the reader to puzzle out the connections and distinctions between them. His drastic switches of style abandon cumulative effect for a series of instants, sometimes with heavily compressed plotting or circular passages of dialogue ... The novel seeks to jolt with its odd narrative rhythms, making it a rare contemporary update of the surrealist novels of Breton and Pinget. Tomin grew up in a disident family under one of the harshest periods of communist rule, and wrote The Doll in his second language, English, as an emigre in Paris. He steadfastly refuses to ground his prose in a comfortable fictional environment, just as he refused to ground it in the comfort of his native language.
— David Auerbach, Rain Taxi Review of Books




Original paperback
edition from November 1992 is out of print.
A new edition is forthcoming.
e-book
Amazon US
Amazon UK
Amazon Canada
Amazon Australia
Amazon Germany
Amazon India
Amazon Japan
iTunes Bookstore
Kobo