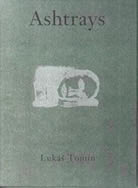 [ excerpt ]

ashtrays
by Lukáš Tomin
illustrated by Alf Van der Plank

Set in Paris, Tomin's second book is the narrative of a tempestuous Czech artist living off the generosity of his girlfriend, struggling with the desire for fame and the alienation of his exile. Repetitive passage through the streets of Paris and recounting of events and disruptions of daily life are periodically broken by lyrical sequences where fantasy and recollection are combined. Writing in an adopted tongue marked by both his native Czech and the French of his setting, Tomin forges an English that is rhythmic, mobile, energetic, and often sharply humorous. In this language, the extremes of the material and spiritual worlds collide and intersect, creating a space of extreme reality which directly confronts the mundane.



What others say:
Whatever else the novel Ashtrays may be, it is certainly a linguistic tour de force — all the more remarkable given that the author, Lukas Tomin, is a Czech who has chosen to write in English. The imagery is stiking and highly original, the speech rhythm — whether British or American English — remarkably fluent and accurate, and the style as a whole has a mellifluous, poetic quality. It also has that essential and often forgotten ingredient for a novel: It makes the reader want to turn its pages. Unlike Tomin's first novel The Doll, there is little trace of mysticism . . . Instead, what we get is a gritty, sordid portrait of Parisian low-life couched in language of great originality that gives even the most squalid passages a compelling intensity.
— Michael Halstead, The Prague Post


... the most innovative and refreshing piece that I have read in a while ...
— Cups


There is no question that Tomin has talent for creating a gritty, urban, yet highly poetic atmosphere.
— Prognosis




ISBN 8090125735
120 pp.
14.5 x 20.5 cm
30 b/w drawings
softcover
fiction : novella


out of print
will be reprinted
in a new edition