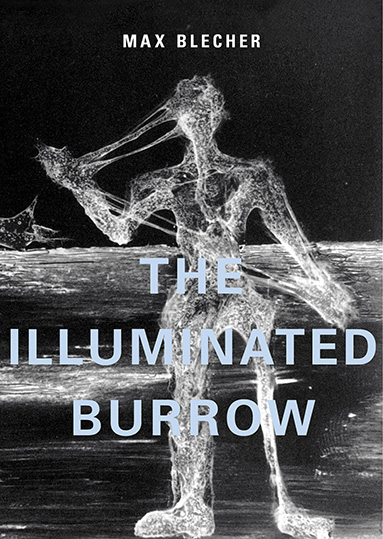 [ excerpt ]

More about Blecher
and his work here

also by the author:
Adventures in
Immediate Irreality

Scarred Hearts

Transparent Body
& Other Texts


the illuminated burrow
A Sanatorium Journal
by Max Blecher
translated from the Romanian by Gabi Reigh
afterword by Gabriela Glăvan

Max Blecher began writing The Illuminated Burrow in 1937 and continued working on it until his death the following spring, but its full version was only published posthumously in 1971. It was the final "novel" in what can be called a trilogy that includes Adventures in Immediate Irreality and Scarred Hearts, and like those, its imaginative distortion of real experiences is reminiscent of Bruno Schulz as well as the Surrealist autofiction of André Breton and Michel Leiris. Set in the sanatoria where Blecher received treatment for spinal tuberculosis, the ostensible narrator is forced to confront the power and limitations of memory as he attempts to capture the last moments of life as they pass "like ash ... through a sieve," one final effort to reclaim the beauty of days spent straddling the boundary between waking and dreaming, encountering the marvelous both inside and outside the sanatorium's walls, inside and outside his very body. As his physical powers decline and he becomes permanently bedridden, the narrator's life migrates to his inner consciousness, an "illuminated burrow" where reality is indistinguishable from fantasy, where the surreal and the mundane seamlessly fuse to enact the fears and fascinations elicited by the vibrant world that is gradually slipping away.

In a letter to Saşa Pană, Blecher explained his method:
My ideal of writing would be to transpose into literature the high tension found in a Salvador Dalí painting. That cool dementia, perfectly legible and essential, is what I would like to achieve. Explosions that occur between the walls of the room and not at a distance between chimerical and abstract continents. ... Surrealism should hurt like a deep wound.

The imagination is nothing more than an extension of matter.
— Roger Caillois


The beauty of Blecher's prose and the focus of his observations often pull the reader away from the depth of suffering, as does the variety of events he experiences as he grapples with the unfathomable.
— Rick Henry, Rain Taxi


The novel is a powerful final testament that insists on delving into, with the utmost intensity, the manifold nature of each moment – apparent and invisible, corporeal and fantastical, light and dark, secret and hallucinatory.
— Sanders Isaac Bernstein, The London Magazine


Everything that happens in the outside world is filtered through [Blecher's] uncommon intellect, processed almost beyond recognition, then sent back into the world as exquisite, highly penetrating prose. [...] Gabi Reigh's translation is so good that it reads as if Blecher wrote the book in English.
— Costica Bradatan, The TLS


There's something unsettling about reading a work of autobiographical fiction in which the author traces the arc of their own waning health. But Blecher's work is more complex than that description makes it sound: imagine a Venn diagram charting the overlap between Pessoa and Kafka and you might have a sense of where to start. And some of the prose, in Reigh's translation, is stunning ...
— Tobias Carroll, Words Without Borders




ISBN 9788086264585
166 pp., 135 x 190 mm
hardcover with ribbon bookmark
2 color plates
illustrated endpapers
literature : novel

release dates:
UK/Europe: October 2022
US/Canada: November 2022
order directly:
airmail shipping & handling incl.

also available from:
Wordery
Indiebound
Bookshop.org
Amazon US
Amazon UK
Central Books

within EU: Kennys

e-book [978-80-86264-61-5]
Amazon US
Amazon UK
Amazon Canada
Amazon Australia
Amazon Germany
Amazon Japan
Apple iBooks
Kobo