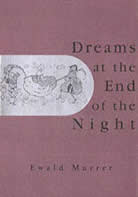 also by the author:
The Diary of Mr. Pinke


Teschner frontispiece here
dreams at the end of the night
by Ewald Murrer
translated from the Czech by H. Sidenberg
Illustrated by Richard Teschner

Born in 1964 in Prague, Ewald Murrer belongs to that generation of Czech artists who came of age during the last years of the communist regime and who immediately afterward began to have their work disseminated in official publications. This is his first volume composed solely of prose. The language has the same lyrical quality for which he has become known as one of the important Czech poets of his generation. The book is composed of 17 stories, dream-like sequences with recurrent characters as components of the dreams. In this manner Murrer has created a semiotic fantasy world where every gesture is loaded with meaning. The stories are sharply ironic, erudite in their symbolism, and portray the eternal beauty of the banal.



What others say:
These short stories read like a fascinating dream journal whose enigmatic characters are often transformed, returning to haunt the reader ... Having found no meaning in the rational, conscious world, this type of surrealism insists on the wealth of tensions and the depth of imagery available in the subconscious ... There is a pervasive atmosphere of estrangement and apprehension here, one appropriate to the oneiric state.
—Catherine Kasper, Rain Taxi Review of Books


Ewald Murrer has produced a book that perhaps seems at first to be a catalog of illustrations to Freud's The Interpretation of Dreams, but which ultimately, and primarily, "awaits a sign," i.e., searches for meaning. At the end of the 20th century he has portrayed a celebration of boredeom, the stifling of which by momentary ecstasy, or Ecstasy, is futile. The transformation of illusion into disillusion occurs at the moment when drugs (of any sort) cease to have any effect, and Murrer goes further than many of his contemporary unfortunates in admitting the consequence. His book is a venturesome pilgrimage whose end offers no answer.
— Alena Blazejovska in Tvar


Murrer's poetic vision is unarguably one of the most remarkable in all of contemporary Czech poetry.
— Vladimir Novotny, Institute of Czech Literature


. . . evocative language and narrative structure that actually makes you sit up.
— The Prague Post


Ewald Murrer's new book, Dreams at the End of the Night, is entirely pretty, from its burgundy cardstock binding, to its prints of fantastic creatures and scenes, to its short, dream-narratives.
— Paul McRandle, Brainwashed.com




ISBN 8090125794
140 pp.
14.5 x 20.5 cm
softcover with flaps
color frontispiece
short fiction


out of stock