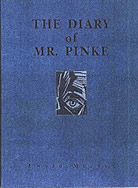 [ excerpt ]

also by the author:
Dreams at the
End of the Night


the diary of mr. pinke
by Ewald Murrer
translated from the Czech by Alice Pistkova
illustrated by Fedele Spadafora and Helena Vlčnovská

The Diary of Mr. Pinke is poet Ewald Murrer's first full length work of prose. Written as a compilation of journal entries spanning March to December, it relates the strange happenings amongst a group of village residents, including a rabbi, a magic goat, an ancient Gypsy, and a fortune teller in a mythical region that could be the Galician countryside. The entire atmosphere is suffused with a surrealistic quality as people and beasts float across the landscape, leaving only cryptic traces of their passage. Through the combination of poetry and prose, Murrer gives the narrative a unique and personal lyricism. His use of folklore and myth both connects him to a tradition of Czech literature begun early in this century and places him amidst the new generation of Czech writers.



What others say:
This is literature that is mandatory today where faith in a potent, vivacious poetry is already (or still?) uncommon ...
—Národní 9


... a journey into a skillfully crafted "otherworld."
— The Prague Post


Ewald Murrer's The Diary of Mr. Pinke is one of those rare book finds that compels you read it all over again.
— Velvet Magazine


[The book] is extraordinary from the first. A peculiar Chagall-like atmosphere metamorphosing the quotidian into the miraculous.
— Emil Julis




ISBN 8090125743
112 pp.
14.5 x 20.5 cm
softcover
5 B/W illustrations
novella in verse


temporarily out of print