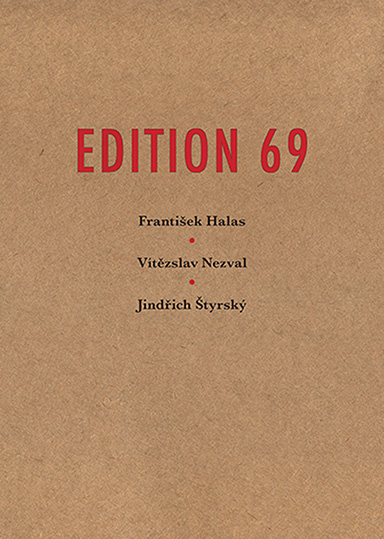 [ excerpt ]

also by the authors:
Dreamverse
Woman in the Plural
The Absolute Gravedigger
A Prague Flâneur
Valerie and Her Week of Wonders
Antilyrik



edition
69
by František Halas / Vítězslav Nezval / Jindřich Štyrský
translated from the Czech by Jed Slast
artwork by Jindřich Štyrský

Launched in 1931 by Jindřich Štyrský, Edition 69 consisted of six volumes of erotic literature and illustration that followed the path marked out by Louis Aragon's Irene's Cunt and Georges Bataille's Story of the Eye. Including were the first Czech translation of Marquis de Sade's Justine and Pietro Aretino (both illustrated by Toyen), but three volumes were from Czech artists, and these were all illustrated by Štyrský himself, who also contributed the text for the series' final volume. Because of the censorship laws Štyrský encountered with his illustrations for the first Czech publication of Lautréamont's Maldoror, the Edition 69 series was not for sale in regular retail outlets, nor was it made available to libraries. As the original colophons indicate, the books were exclusively for subscribers, collectors, and a circle of friends, and the original print runs numbered no more than 200 (Štyrský's volume was limited to 69 copies).

Brought together here in original English translations, Edition 69 comprises: Nezval's "Sexual Nocturne"; Halas's erotic poetry collection "Thyrsos"; and Štyrský's "Emilie Comes to Me in a Dream," including the original postscript from psychoanalyst and fellow Surrealist Bohuslav Brouk. For each, Štyrský chose a different technique for the artwork, from pen and ink drawings to graphic collages to pornographic photomontages. Influenced by Max Ernst's collage-novels, André Masson's illustrations for Aragon's and Bataille's work, and the book as object, Štyrský's overall conception for the Edition 69 series rank it among the notable achievements of European Surrealism, representing as well a sustained attempt by the interwar Czech avant-garde to investigate the taboos of bourgeois culture.



The original volumes were published in very limited editions intended to have an extremely small circulation among subscribers only. This new edition, which as usual with this publisher, demonstrates refreshingly high artistic and production values, provides the opportunity to experience what had been intended for that select number of 'friends and collectors'.
— John Howard, Wormwood


Edition 69 is a lovely little volume – a beautifully produced book (as one can always expect from Twisted Spoon Press), with some significant (if explicit) artwork. Both Nezval and Štyrský's short prose pieces are well worthwhile – more than curiosities – and, though not nearly of the same literary quality, Halas' poems are an amusing enough accompaniment.
— M.A.Orthofer, The Complete Review


Much of the material in Twisted Spoon's new collection of Edition 69 still provokes and disturbs nearly a century after their original publication. [...] Edition 69 has its highs and its lows, but I think it's another important document of Czech surrealism from Twisted Spoon, and in its finest moments it reminds us that we are bodies pulling a psyche around, no matter how much we fool ourselves. Good stuff.
[Edition 69] is an absolute gem, offering for the first time in English a pair of linguistically innovative works that proved more than 70 years ago what our world has only recently come to understand: The best national interpretation is, above all, a personal interpretation.
— Czech Business Weekly


Erotic writings of the highest order.
— John Taylor, The Antioch Review


Jindrich Styrsky's "Emily Comes to Me in a Dream" ... is an exquisite exercise in dream-writing.
— RALPH


While the visual arts of Czech Surrealism have attracted increasing attention recently, very little Czech Surrealist literature has been translated, and from that perspective the present book is a welcome corrective. ... and especially by providing what is, as far as I am aware, the first translation of any text by the fascinating and under-recognized writer Bohuslav Brouk, this volume provides a valuable service.
— Peter Zusi, Slavic and East European Journal


... worth seeking out by anyone with a taste for a kind of writing that is distinctively middle European: intellectual, graphic and surreal.
— Nicholas Clee, The Guardian


The publication of Edition 69 in Slast's graceful translation is a landmark event in itself, in that it effectively brings together all of the various movements (Poetism, Surrealism, Constructivism) occupying the Czech interwar avant-garde into one accessible, not to mention beautiful, volume.
— Think again




ISBN 9788086264110
137 pp., 13.5 x 19 cm
smyth-sewn softcover with flaps
29 B&W illustrations
erotica : surrealism
mature content : 18+

release dates:
UK: May 2020
US: September 2020


Order directly:
airmail postage & handling incl.
or order from:
Book Depository
Bookshops
Indiebound
Bookshop.org
Bookshop.org UK
Amazon US

Amazon UK

Central Books