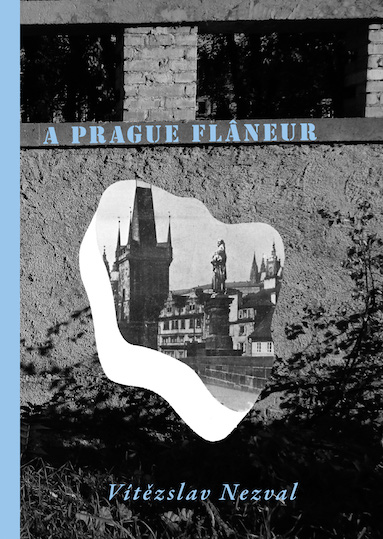 [ excerpt ]
book view

also by the author:
Woman in the Plural
The Absolute Gravedigger
Valerie and Her Week of Wonders
Edition 69
Antilyrik


events:



a prague flâneur
translated from the Czech by Jed Slast
photographs by the author

Written between June 1937 and July 1938, A Prague Flâneur has a hidden history that was uncovered only fairly recently. The version that Nezval actually wrote first discusses the Moscow Trials, his break with André Breton and their friendship, the rift within the Czechoslovak Surrealist Group, Hitler and Nazi Germany, Lautréamont, capitalism, Trotsky, and Surrealism in relation to the general political environment. The version that has generally been taken as the "original edition" has all of this largely expunged, the gaps filled at times with assorted poems, a paean to the "star-studded" Vltava – "O Vltava, you are like a poet" – allusions to Karel Hynek Mácha, and a variety of lyrical meanderings through Prague neighborhoods that really do read like filler. In addition, any mention of "Surrealists" or "Surrealism" is jettisoned for the generic "poets" and "poetry." Why would Nezval do this? Given that the book was published in September 1938, once the Munich Agreement was signed at the end of that month, which ceded the Sudeten regions to Hitler's Third Reich, it seems both publisher and author became apprehensive about offending Nazi shibboleths, and the book was immediately pulled from bookstores and "revised" while keeping the same layout and page count (thus the need to fill in where whole passages were expurgated). A few of these ur-editions survived, however, and this translation is based on that version. So rather than Nezval traipsing through the Troja district where the zoo is located and waxing about the lions and bears keeping watch over Prague, in this edition he explains, for example, how his views on events in Moscow diverge from Breton's. Even so, most of the content of the two first editions remains the same: a particular restaurant suddenly transports Nezval back to his student years, he walks the streets and reminisces about past loves, musing on the changing face of Prague and of all the cafés and pubs, many of which no longer exist, where he would meet friends and discuss the issues fo the day confronting artists, and so forth.

In addition to Nezval's original photographs and illustrations from the first edition, the volume also includes an appendix that maps out the revisions made and translations of the longer passages that were inserted as replacement.





ISBN 9788088628002
ca. 210 pp., 135 x 195 mm
softcover with flaps
6 B/W illus.
literature : surrealism
RRP: £14 • US$20

publication:
March/April 2024