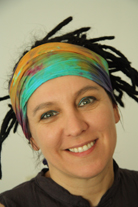 photo: Grzegorz Zygadło
further reading:
from Final Stories
"The Knight"
"Preserves for Life"
"Water II"

Nobel Lecture
olga tokarczuk
Olga Tokarczuk was born in 1962 in Sulechów near Zielona Góra, Poland. A recipient of all of Poland's top literary awards, she is one of the most critically acclaimed authors of her generation. After finishing her psychology degree at the University of Warsaw, she initially practiced as a therapist and often cites C.G. Jung as an inspiration for her work, in which mythmaking has become a hallmark.

Since the publication of her first book in 1989, a collection
of poems, Tokarczuk has published ten volumes of stories, novellas, and novels, and one book-length essay (on Boleslaw Prus's novel The Doll. In English her work has appeared in numerous journals and anthologies, as has her novel House
of Day, House of Night. In 1998 Tokarczuk moved to a small village near the Czech border and now divides her time between there and Wroclaw. Her novel Bieguni received Poland's top book award, the Nike Prize, in 2008 and its English translation by Jennifer Croft, Flights, the Man Booker International Prize in 2018.
Winner of the 2018
Nobel Prize in Literature


published by TSP:
Primeval and Other Times

other books
by the author:
House of Day,
House of Night
Flights
Drive Your Plow over the Bones of the Dead
Elsewhere (anthology)