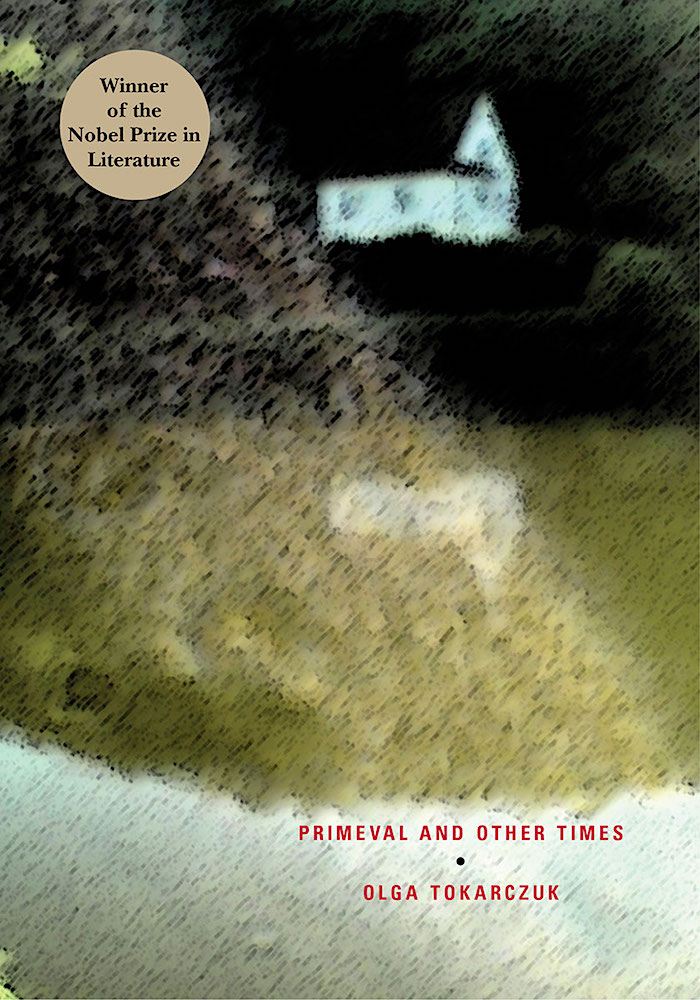 [ excerpt ]

also by the author:
Flights
Drive Your Plow Over the Bones of the Dead
House of Day,
House of Night


Read more from the author here and here


author events:



primeval and other times
translated from the Polish by Antonia Lloyd-Jones

Set in the mythical Polish village of Primeval, a microcosm
of the world guarded by four archangels and populated by eccentric, archetypal characters, the novel chronicles the lives of the inhabitants over the course of the feral 20th century in prose that is forceful, direct, and the stylistic cousin of the magic realism in Gabriel García Márquez's One Hundred
Years of Solitude. Told in short bursts of "Time," the narrative takes the form of a stylized fable, an epic allegory about the inexorable grind of time and the clash between modernity
and nature in which Poland's tortured political history from 1914 to the 1980s is played out amid the episodic brutality visited on ordinary village life. Yet Primeval and Other Times is a novel of universal dimension that does not dwell on the parochial and it established eventual Nobel Laureate Tokarczuk as one of the leading Polish and European writers. Awarded the Koscielski Foundation Prize in 1997, Primeval
has been translated into many languages and hailed as a contemporary classic of world literature.

Tokarczuk has said of the novel: "I always wanted to write a book such as this. One that creates and describes a world. It is the story of a world that, like all things living, is born, develops, and then dies." Kitchens, bedrooms, childhood memories, dreams and insomnia, reminiscences, and amnesia — these are part of the existential and acoustic spaces from which the voices of Tokarczuk's tale come, her "boxes in boxes."

Tokarczuk is the 2018 recipient of the
Nobel Prize in Literature

Tokarczuk plays on the double meaning of "border" as an edge or outer boundary, as well as a line that indicates the separation between one region and another. In a way, Tokarczuk asks us to momentarily think like a child who fails to grasp the distinction between the two meanings of granica [border], and to consider the nature of boundaries, how we define them, and the concept of "boundary" itself. In Primeval, the literalization of the concept of "border" as the edge of the perceivable world forces us to hesitate — if for only a moment—and consider the possibility of that which otherwise seems irrational.
— Ewa V. Wampuszyc, East European Politics
and Societies


Tokarczuk tells a superb story of an extended family during a very difficult period in Poland. She condemns the Germans and Russians, she mocks the Communists for their greed and corruption and she criticises the rampant sexism. Above all, by using elements of fantasy and magic realism, she shows a Poland which is both real and suffering but also a Poland which operates on a somewhat different plane from the real world.
This is Primeval: an enclosed snow globe, a world in itself, which it may or may not be possible to ever leave. Outside, wars rise and then break like waves, disgorging soldiers and refugees through the border of Primeval, whose residents are swept up in the flood without always being entirely certain whether the outside world really exists. [...] History, in this novel that spans the bulk of the twentieth century, is a thing that happens elsewhere, a dream that, like Goya's Sleep of Reason, gives birth to monsters.
Overlooking all is a vain selfish God who has become thoroughly bored with mankind and who must play second fiddle in Ms Tokarczuk's pantheistic world to material things. ... The book struck deep chords in readers, who responded to it as if a luminous new way of presenting 20th-century Poland had been found.
Set amidst the turbulent times of the 20th century, the novel brings to the fore narratives of several families living in the village who are fighting an everyday battle for happiness.
In her unusual and affecting novel Primeval and Other Times, Polish writer Olga Tokarczuk introduces a world endowed with a cosmology that skews conventional Christian wisdom, placing God on the sidelines of His creation. In this world view, matter and spirit are tightly bound at all levels of existence and imagination is a vital force driving life forward.
Primeval's short chapters describe how living creatures, divine beings, and manmade objects experience the world they live in. Whereas each person lives in the present with an awareness of past and future that causes suffering, animals live only in the present and experience the world in a completely different way.
— Kirsten Lodge, Slavic and East European Journal


Tokarczuk explores shared experience in emotional and literal terms. In the course of the novel grass bleeds, a woman experiences touch vicariously, a house has a soul, clothes have memory, mushrooms are described as possessing time, and animals dream in images. One could certainly argue that these constructs are merely figurative personifications or the conventions of magical realism, but Tokarczuk's insistence on connecting the experiences of flora, fauna, and even inanimate objects to the human experience, never privileging one over the other, indicates a desire to unify all experience in a way vital to the novel's themes. These constructs are inherently empathetic. Tokarczuk ultimately argues that sharing experience among all worldly things is a prerequisite for living. In fact, if we cannot know the nature of God or if he is an illusion or may have taken leave from us, we are left with our attachments, physical and emotional, to this world. Primeval shows us that in the past century's turbulence experience itself may be the only means left for us to share with others, and the only trace we leave in the world.
— Chad Heltzel, The Sarmatian Review


Tokarczuk has tackled a difficult task, to create a place, characters, and stories that exist in their own right but also within the stream of history, where the characters are both believable and beyond belief, where the extremes are pushed farther than what most of us have experienced and yet (the terrifying part) are anchored in twentieth century history.
Primeval and Other Times is a welcome translation from Polish of a major literary achievement that has, understandably, won prizes and acclaim throughout Europe.
— Jeff Bursey, Review of Contemporary Fiction


The prose of Primeval and Other Times has a strangely sedating effect in reading. Quietly powerful, it is a tale not soon to be forgotten.
— World Literature Today


Tokarczuk's skill at dispensing doses of magical realism creates a thrillingly unstable universe — and a haunting parable: Primeval not only loses all sense of security, but also any steady sense of place and time.
— EXBERLINER


Primeval and Other Times is a major novel with a scope and depth rarely achieved in contemporary literature. Its complexity extends beyond the vast number of interrelated characters contained in Tokarczuk's lushly imaginative narrative to the emotional tribulations of several decades in the history of a microcosmic village. Tokarczuk reminds us why we read novels: to enter a fictional world at once completely foreign and poignantly familiar.
— Stephan Delbos, The Prague Post


Primeval is a story that is historical, mystical, and philosophical simultaneously. The characters are very real, and their lives and experiences captivating.
— David Miller, Krakow Post


... curious and moving book.
It is here, amongst these dense forests, that the sphere of the sacred blends with the profane, as mystical phenomena, Catholicism, holiness and spirituality intertwine with the everyday. A microcosm of Polish towns of the period, Primeval is to Tokarczuk what Visegrad was to Ivo Andric in The Bridge over the Drina. The author is the village's chronicler and documents what she feels is worthy of retelling, combining fact and fiction to serve her own myth-making purpose.
— Richard Jackson, KGB Lit Magazine


Opening the book was like finding a time-worn matryoshka doll at an antique shop on Krakow's back streets, where I might be greeted with a cup of tea and a half-blind cat. Olga Takorczuk has created a multi-layered, imperfect, brutal and whimsical world to take apart and put together again. There is so much beauty within: fermenting apples in the basement, the steam of boiled potatoes fogging up the windows, and a pantheon of slovenly Slavic gods who take their time to attend the political, natural, and supernatural needs of the inhabitants of Primeval.
Primeval is a kind of "tale," with its emphasis on structure, repetition, and archetype, where collective tradition (in this case, Central European Judeo-Christianity) provides the gloss to aspects of the text left unwritten. Characters move in and out, some appearing only briefly, and yet we are meant to—and do—see them as full, round beings, with sensible motivations and unique psychologies.
— Tara Bray Smith, Words without Borders


[The novel] recounts the hard passage of an imaginary village through a century of conflict, distant coups and decay. Centre-stage, however, are the village's colourful characters: an aristocrat who withdraws from life to play a rabbi's fantastical board game promising answers to life's great questions; a dog-loving madwoman pursued by the moon; a Soviet soldier who seeks sexual relief among forest beasts; a priest who wishes to tame a frog-infested river. Overlooking all is a vain selfish God who has become thoroughly bored with mankind and who must play second fiddle in Ms Tokarczuk's pantheistic world to material things: a sprawling mushroom root which links all matter together or a wooden coffee-grinder with which a young girl mills out time.
— The Economist


Primeval and Other Times is small but epic, in the same way that, say, that a short story by Faulkner or Nabokov is epic. ... Into the bucolic lives of the people of Primeval comes The Great War, the Depression, World War II, the Nazi occupation, then the Russians. Life is less than bucolic, but even amidst the sounds and alarums of war and invasion, the author leavens all with a touch of softness and mysticism. ... a singular work of beauty, translated with no little art.
— RALPH


In Primeval, shape-shifting elements of nature coexist seamlessly with a character taming snakes into peaceful domesticity by the hearth, Nazi concentration camps, and God grieving his unrequited love for man within a mystical labyrinth of eight spheres or worlds. It's well worth the long visit.
— Booklist


Tokarczuk is a painter of words and dreams who writes with meaning. She challenges readers to question/discover the layers of God, story, and characters' souls through symbolism, mentions of authentic Polish Easter customs, and vignettes featuring the complex labyrinth journey game of life choices divided into eight worlds/spheres.
— NewPages


Trained as a psychologist and inspired by Jungian theory, Tokarczuk writes novels that are at once realistic, mythic, folkloric, poetic and post-modern. The diction of Primeval and Other Times is deceptively flat and seemingly simplistic, like that of a well-known fairytale. But each vignette, each "short clip" adds another layer of perception.
Primeval and Other Times is an overtly philosophical book, but not a polemical one. Tokarczuk allows various strains of philosophical thought to surface through her characters: Optimism, nihilism, determinism, and free will coexist without privilege, and though we may be sermonized by the preacher, his words have no more authority than any of the other characters we meet. Furthermore, since the philosophy we encounter in the book arises organically from the lives of the townspeople, it never feels unanchored or purely intellectual.
— Angela Demarco, Bookslut


From odds and ends of real history Tokarczuk builds a myth, i.e., a history with a rigid order, where all the events, including the bad and tragic ones, have their reasons for happening. She organizes space according to the model of the mandala — a circle drawn inside a square, which is the geometrical image of perfection and completion.
— Jerzy Sosnowski, Gazeta Wyborcza


In this epic novel Olga Tokarczuk has drawn on the tradition of magic realism to create a world permeated with ancient myths as much as it is firmly rooted in the present.
— Frankfurter Allgemeine Zeitung


The author draws the reader into a sadistic world that is described in a language that is crystalline and pure as water from a well.
— De Morgen


Olga Tokarczuk's myth of "Primeval" is far more sophisticated than it might seem. She is not satisfied with merely glossing traditional mythical narratives, and we will not find many of these in her novel. Her method is more refined. Perhaps we would do well to recall that wonderful Polish tradition of "mythmaking," as found in the works of Bruno Schulz and Boleslaw Lesmian, where the mythical perception of the world takes precedence over simply presenting the memes of myth, as it were, which are meant to point to readymade archetypes. Tokarczuk shows no fear in transgressing this tantalizing border, and her mythmaking is fresh and original, while also being uncommonly consistent with her other work as well. Unlike Schulz's chaotic, fantastical mythmaking, Primeval is calming and meditative, and it differs from the writing of Tokarczuk's generational peers who share a similar poetic vision: it eschews Andrzej Stasiuk's zeal in Tales of Galicia for replacing older myths with the modern myth of consumerism, nor does it have any of Magdalena Tulli's complex semantics and labyrinthine mystifications. While Primeval and Other Times addresses similar questions, its approach is completely its own and, especially in a time of postmodern experimentalism, singularly poetic.
— Literarni noviny (Prague)




ISBN 9788086264356
248 pp.
14 x 20 cm
softcover with flaps
fiction • novel

release dates:
UK: January 2010
US: April 2010


order from:
Book Depository
Bookshops
Indiebound
Bookshop.org
Bookshop.org UK

e-book
Amazon US
Amazon UK
Amazon Canada
Amazon Australia
Amazon Germany
Amazon India
Amazon Japan
Apple iBooks
Kobo