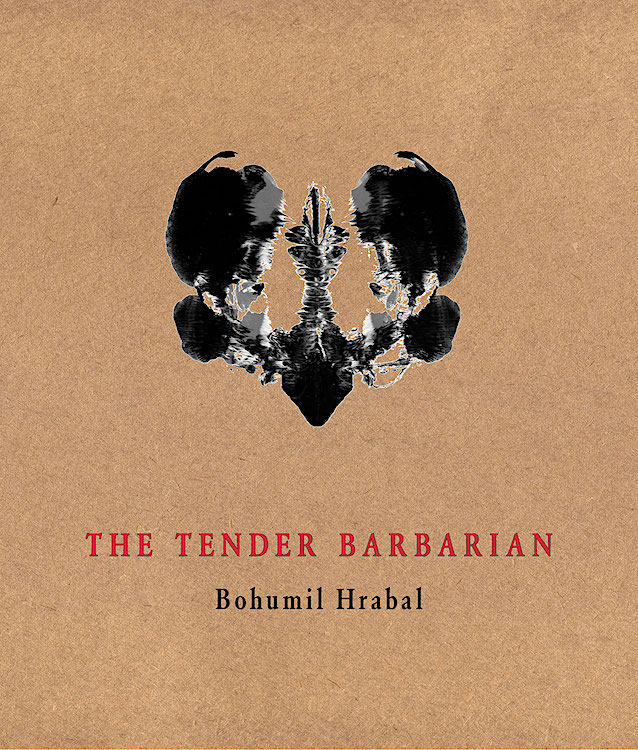 [ excerpt ]
series: image to word #5

also by the author:
Total Fears
Closely Watched Trains
Too Loud a Solitude
I Served the King of England
The Little Town Where Time Stood Still
In-House Weddings
Dancing Lessons for the Advanced in Age
Harlequin's Millions
Murder Ballads & Other Legends


the tender barbarian
Pedagogic Texts
Explosionalist texts and artwork by Vladimír Boudník
translated from the Czech by Jed Slast
afterword by Vladislav Merhaut

Vladimír Boudník never wanted to live as a successor to
what had already occurred. He preferred instead to play
the imbecile whose only wish was to initiate a new era,
a new epoch, a new life brought into being through him.
— Bohumil Hrabal

Hrabal met experimental graphic artist Vladimír Boudník in 1950 when both were part of a work brigade at the Kladno steel mill. At the time, Boudník was living in a garret without any basic amenities, including heat. So with winter approaching, Hrabal offered to sublet him a room in his apartment in Prague's Libeň district, and from December 1950 to April 1952 they were roommates. Many other artists and writers would frequently pop in, including the avant-garde poet/philosopher Egon Bondy. And the three were more often than not in the pub discussing art and philosophy over beer.

The Tender Barbarian is a series of texts Hrabal compiled on the one hand to pay homage to his deceased friend, Vladimír Boudník, and on the other as a somewhat fictionalized account of their life during the 1950s in Prague–Libeň, with Egon Bondy acting as Boudník's foil and dialectical antithesis. Having been influenced by Surrealism in the 1940s, by the end of the decade all three were trying to move beyond it: Bondy and Hrabal with Total Realism and Boudník with Explosionalism, an associative method of graphically interpreting random blotches. Boudník here plays the naif, a proletarian artist who's a tender barbarian, someone for whom a state of grace comes naturally, spontaneously, while for Bondy, who is poring over philosophical tomes to learn how to achieve such a state, this becomes a never-ending source of frustration and admiration, to which he reacts with streams of invective. Hrabal once mentioned that when he sat down in 1973 to write something about Boudník for an exhibition and samizdat publication to commemorate the fifth anniversary of his death, he just kept writing and writing, and the book does read almost like an automatic text as one episode spills into another, the interplay between the two protagonists forming a dialectic that Hrabal indicates he has borrowed from Boudník's mode of being and creating.

Whether the book is rightly called a novel, fiction or non-fiction, or both at once, it is a compelling testament to an era and a group of friends who lived for and in art and managed to find beauty and the marvelous even in the dungheap that was Stalinist Czechoslovakia. As Hrabal put it: "I saw two people with the thumbprint of God on their brows: Vladimír and Egon Bondy." This edition is complemented by a selection of Boudník's Explosionalist texts and prints.



Hrabal, who considered himself shy and fearful, with hang-ups about meeting the standards set by the literary greats, envied this man who recognized no influence or artistic parenthood beyond the material world. [...] Boudník provided an example to Hrabal of how living outside the strictures of society could give one a better position to observe it.
— Matt Weir, Dissent


Jed Slast's translation of the The Tender Barbarian, meanwhile, is so accomplished that even a first-time reader of Hrabal will be swept up in his hypnotic prose.
— Benjamin Paloff, TLS


The Tender Barbarian seamlessly combines fact and fiction to chronicle the avant-garde intellectual bromance between Hrabal and the two people who were most important to his development as a writer: Vladimír Boudník and the writer and philosopher Egon Bondy. The eponymous main section of the book (which also includes beguiling prints and texts from Boudník) narrates the trio's misadventures as they explore the streets of Prague and the limits of the creative imagination — with which they perpetually strive to stay in touch.
Boudník's manifestos on the explosionalism movement, his debates with the arts academy, and his more general thoughts on mankind are pointed, intelligent, and surprisingly applicable to contemporary issues.
— Amy Riddell, Bookmunch


What Hrabal wrote about me and Vladimír is pure invention, all of it, an authorial fabulation, a complete fabrication.
Explosionalism: Seismograms of nerve impulses rendered into concrete forms.
— Vladimír Boudník


The axe ... this is the eternally young grandfather of the jackhammer, the hydraulic press, the metalworking lathe, the grinding machine.
— Aleksei K. Gatsev




ISBN 9788086264523
181 pp. (149 + 32 color)
53 color illus., 5 halftones
17 x 20 cm
Smyth-sewn softcover
with flaps
literature : art
RRP: £17.50

release date:
December 5, 2019

Not available in
the US & Canada


Available for order
directly via PayPal,
price includes airmail worldwide
€21
or order from:
Book Depository
Bookshops
Bookshop.org UK
Shakespeare & Sons
Motto Books
Amazon UK
Amazon Germany
Central Books

e-book
Amazon US
Amazon UK
Amazon Australia
Amazon Germany
Amazon India
Amazon Japan
Apple iBooks
Kobo