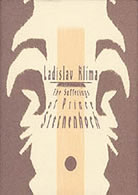 the sufferings of prince sternenhoch
translated from the Czech by Carleton Bulkin

Illustrated by Michal Vavrečka
afterword by Josef Zumr

Ladislav Klíma is considered to be one of the most important Czech philosophers of the 20th century, and arguably the greatest of the prewar era. His work has influenced artists of all stripes, most notably Bohumil Hrabal and the Plastic People of the Universe. His approach toward philosophy was similar to that of the sages of ancient India: i.e., one should not limit philosophy to speaking or writing about it, one should live it. In this way Klíma embarked on a lifelong pursuit of becoming "God," which he equated with Absolute Will. Drawing his greatest inspiration from Schopenhauer and Nietzsche, he developed his conception of will and radical subjectivism in numerous essays, aphorisms, tracts, prose works, and plays. Though he wrote many novels and stories, The Sufferings of Prince Sternenhoch is the only full-length work of fiction Klima prepared for publication during his lifetime. In a series of journal entries, the book chronicles the descent into madness of Prince Sternenhoch, the German Empire's foremost aristocrat and favorite to the Kaiser. Having become the "lowliest worm" at the hands of his deceased wife Helga, the Queen of Hells, he eventually attains an ultimate state of bliss and salvation. Klíma explores here the paradoxical nature of pure spirituality with dark absurdist humor and comically grostesque, often obscene, scenes. This volume also includes Klima's notorious essay "My Autobiography." Though Klíma's work has been translated into many languages, this is the first book of his to appear in English.
Carleton Bulkin, from the San Francisco area, received an M.A. in Slavic Languages and Literatures from Indiana University. His translations include Hidden History by Otokar Brezina (Twisted Spoon Press, 1998) and A False Dawn by Ilona Lacková (University of Hertfordshire Press, 2000).

Josef Zumr, a member of the Philosophy Institute of the Czech Academy of Sciences, teaches philosophy at Palacky University in Olomouc. He has devoted much of his professional life to Klíma's work.

Michal Vavrečka was born in 1975 in Olomouc. He is a graduate of the School of Fine Arts in Prague and now teaches painting at the State Arts School in Český Krumlov.



What others say:
The non-conformist work of Ladislav Klíma has almost always shocked, has often incited scandal, but has hardly ever left us indifferent. It is not necessary to accept his view of the world, but it is possible to live through it and enjoy it in all of its ambiguity, just as one does in the theater.
— Václav Havel


Klíma's tale reads like a book that Edgar Allan Poe might have written if he'd read Nietzsche, but there are also moments of reverie that are pure Czech . . . Klíma's rambunctious mix of high and low style and holy and profane content has been stamped indelibly on the Czech literary tradition.
— Washington City Paper


A dark, diverting entertainment, certainly out of the ordinary
... [Klíma] was a decidedly odd bloke, a real character. But he was not a stupid man, and he could write. This volume is apparently the first book of Klíma's to appear in English. Certainly he is an author deserving wider recognition in the English-speaking world.
— The Complete Review


Given the power of Carleton Bulkin's excellent translation, I can only hope that Twisted Spoon or some other publisher sees fit to soon translate more of Klíma's works—fiction or philosophy . . . The Sufferings of Prince Sternenhoch runs with gale-force intensity and speed.
— Tom Bowden, The Education Digest




ISBN 8086264106
224 pp.
14 x 20cm
hardcover
6 full-color illustrations
fiction • novel

cover by Pavel Růt

Out of Print
new edition here