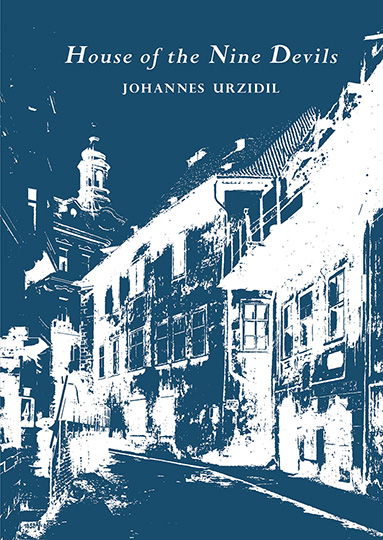 [ excerpt ]
book view

forthcoming :
A Prague Triptych

also by the author & translator:
The Last Bell


house of the nine devils
Selected Bohemian Tales
translated from the German by David Burnett

Collected here for the first time are some of Johannes Urzidil's most renowned Bohemian tales, bearing his trademark wisdom, empathy, and humor. The stories span centuries, from a bygone mythical Prague to the late Habsburg city
with its genteel veneer masking seething ethnic tensions underneath to the terror-filled days of Nazi occupation and
the desperate flight to safety. Autobiographical in nature, the stories often blur the border between reportage, memoir, and fiction, whether an account of encountering Gavrilo Princip wasting away in the Terezín prison after his assassination of Archduke Franz Ferdinand or a WWI soldier trying to evade military police and disrupting a night at a Café Arco, a favorite haunt of the Prague Circle of Baum, Brod, Kafka, and Werfel, to which Urzidil also belonged as the youngest of the group.

Although Urzidil was well-respected as a writer, his work
never fully received the recognition it deserved and was largely overshadowed by his friendship with Franz Kafka and the essays he penned about him. The last three decades of his life were spent in exile in the U.S., isolated from his German readership and outside postwar European literary trends. David Burnett has made it his mission to make Urzidil's work available in English translation for the first time. Together with the The Last Bell, this collection gives an important, long-neglected author new life, presenting to anglophone readers the last link to that symbiotic milieu of Prague German-Jewish writers.



The most erudite of all Prague German writers, his mastery consists not least of all in his ability to tell a story while politely concealing his erudition.
— Peter Demetz




ISBN 9788086264608
198 pp., 13.5 x 19 cm
hardcover with ribbon bookmark
fiction : short stories
RRP: $23 • £16

release date:
UK/Europe: July 18, 2022
preorder directly
airmail postage & handling incl.
will ship in July
or order from:
Book Depository
Bookshops
Indiebound
Bookshop.org
Bookshop.org UK
Amazon US
Amazon UK
Central Books