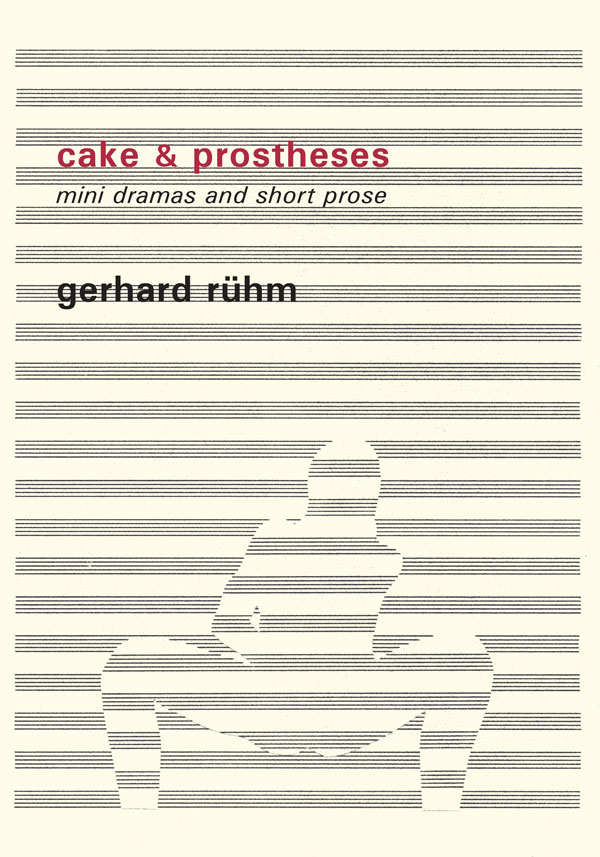 book view

Publication supported by a grant from the Federal Ministry of Arts, Culture, Civil Service and Sport of the Republic of Austria


cake & prostheses
mini dramas and short prose
by Gerhard Rühm
translated from the German by Alexander Booth

An inveterate experimenter with image and text and music, Gerhard Rühm is truly one of the major figures of the postwar European avant-garde. Yet reprehensibly little of his work has appeared in English. This edition brings together a selection of his work spanning the past seven decades, displaying a wide thematic range (as he has remarked, "there is nothing that cannot become part of one's poetic universe") and ingenious combinations of music, pornography, banality, humor, and mythology. The first section comprises "mini dramas," the
text often combined with images and musical notation to create sensorial episodes, the expression of a singular
sensual aesthetic perception. The second section is a wry deconstruction of Grillparzer's play Hero and Leander that juxtaposes original passages with images from a swimming manual and with a more contemporary erotic retelling of the mythological tale. The final section presents 24 short prose pieces: 12 from the early 1950s and 12 from the past few years.


Recipient of the Austrian State Prize in 1991 and the America Award in Literature in 2022

Rühm has remained a radical experimenter, a restless explorer of traditions and genres, atomizing their elements in order to recompose them with conceptual precision and a multiplicity of compositional techniques.
— Rosmarie Waldrop


Actionist word creator, anarchic alliterator, solid scholar and theoretician, composer, graphic artist, collagist, syllable-juggler, concrete poet, word sculptor, chronicler of the Vienna Group, and Trotskyite permanent revolutionary.
— Ruth Rybarski, Profil




ISBN 9788088628026
196 pp., 140 x 200 mm
smyth-sewn softcover with flaps
30+ b/w images
literature : art
RRP: £14 • US$20

publication:
February 12, 2024
preorder directly:
airmail shipping & handling incl.
will ship in early Jan. 2024

also available from:
Wordery
Indiebound
Bookshop.org
Amazon US
Amazon UK
Central Books


e-book [978-80-88628-33-0]