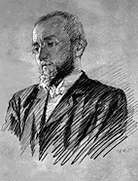 Read about Březina's poetry here

otokar březina
It is far from easy to answer the question as to why Otokar Březina's work has provoked in its readers such unusual interest, and why this interest has persisted until the present day. Nor is it easy to answer in a way which would lend expression to the reader's amazement at Březina's versatility, the continual changes and dynamism of the work, which later played an indispensable role in the development of modern Czech poetry and essay writing. The poems and essays admired by Brezina's contemporaries have lost nothing of their power and impressiveness today. From the time Březina's work began to appear it was as accepted in the Czech intellectual circles associated with the journals the Moderni revue and Katolicke moderna and distinguished literary and philosophical societies as it was at workers' recitation evenings, clearly refuting claims that his work is exclusive and abstruse.
Behind the dry official records of Březina's early years lies the dramatic inner life of a poet, a life which evolved on an aesthetic level from naturalism to symbolism, and on a philosophical level from a decadent pessimism to an evolutionist affirmation of life.
Otokar Březina was born in Pocatky on September 13, 1868 as Vaclav Ignac Jebavy. Entries in the Girls' Lower Secondary School register in Jaromerice nad Rokytnou cast light on his external Kierkegaardian "life-stations": he attended primary and lower secondary school in Pocatky and a provincial higher secondary school in Telc, and was later enrolled at schools in Jinosov, Nove Ruse, and Jaromerice. Perhaps his work as a poet began when as a twelve-year-old student, Vaclav Jebavy composed a cycle of his verses as a farewell present to his schoolmate Alois Cermak. At the higher secondary school in Telc he experienced his first friendship with Frantisek Bauer, to whom he dedicated some early poetry. In June 1886 his first lyrical and epic compositions were published in Jaro (Spring) under the pseudonym Vaclav Danovsky. Some time later he began publishing realistic humoresques, sketches, and long short stories in the magazines Orel and Orlice (The Eagle). In the autumn of 1887 he met Anna Pammrovà in Jinosov. The content of their correspondence, which, except for an interval of three years continued until the poetÍs final days, has become a testimony to his enormous will and struggle in his search for the meaning of life and of creative writing.
By the time of the deaths of both his parents within a week of each other in February 1890, which was of crucial importance to the poetÍs further spiritual development, he had worked for two years on the ultimately destroyed and never-published Romàn Eduarda Brunnera (The Novel of Edward Brunner). He widely read ancient philosophers and mystics in the Novà Rise monastery library, and for many years he studied contemporary poets and thinkers (especially Baudelaire, Verlaine, Mallarme, Poe, Schopenhauer, and Nietzsche). By 1892 his poems began to appear regularly in Niva (The Mead) and Vesna (Spring), later in Moderni revue, Rozhledy (Outlook), Almanach secese (The Art Nouveau Almanac), and Novy Zivot (New Life), now under the assumed name of Otokar Březina.
During the short period when his creative powers were at their peak, he published five volumes of poetry: Tajemne dàlky (1895; Secret Horizons), Svitàne na zàpade (1896; Dawn in the West), Vetry od poli (1897; Winds from the Poles), Staviteli chràmu (1899; The Temple Builders), and the long poem Ruce (1901; Hands). These received the notice of the foremost critics of the day and surpass all other Czech literature of that period in their importance.
With his reputation as a poet thus established, he turned his attention to the essay form. The essays that were to eventually comprise the collection Hudba pramenu (The Music of the Springs) began to appear in periodicals starting in 1897. In this period his work began to receive formal recognition, such as a prize for "poetic works to date" from the Svatobor association and a similar award from the Czech Academy of Arts and Sciences. In June 1913, the year of the first complete edition of his poetic works, Březina was elected an associate member of the same body, and became a full member in May 1923. In 1919 he was awarded an honorary doctorate from Charles University in Prague, and by Christmas 1922 he had been offered an honorary professorship at Masaryk University in Brno, which he declined. Perhaps more importantly, Březina was twice nominated as the Czech candidate for the Nobel Prize in Literature (in 1921 and 1928). On the occasion of his sixtieth birthday he received a prize from the Czechoslovak state of one hundred thousand crowns, which he donated to Svatobor. He died on March 25, 1929 in the Moraian town of Jaromerice nad Rokytnou.
(from the afterword by Petr Holman)





published by TSP:
Hidden History