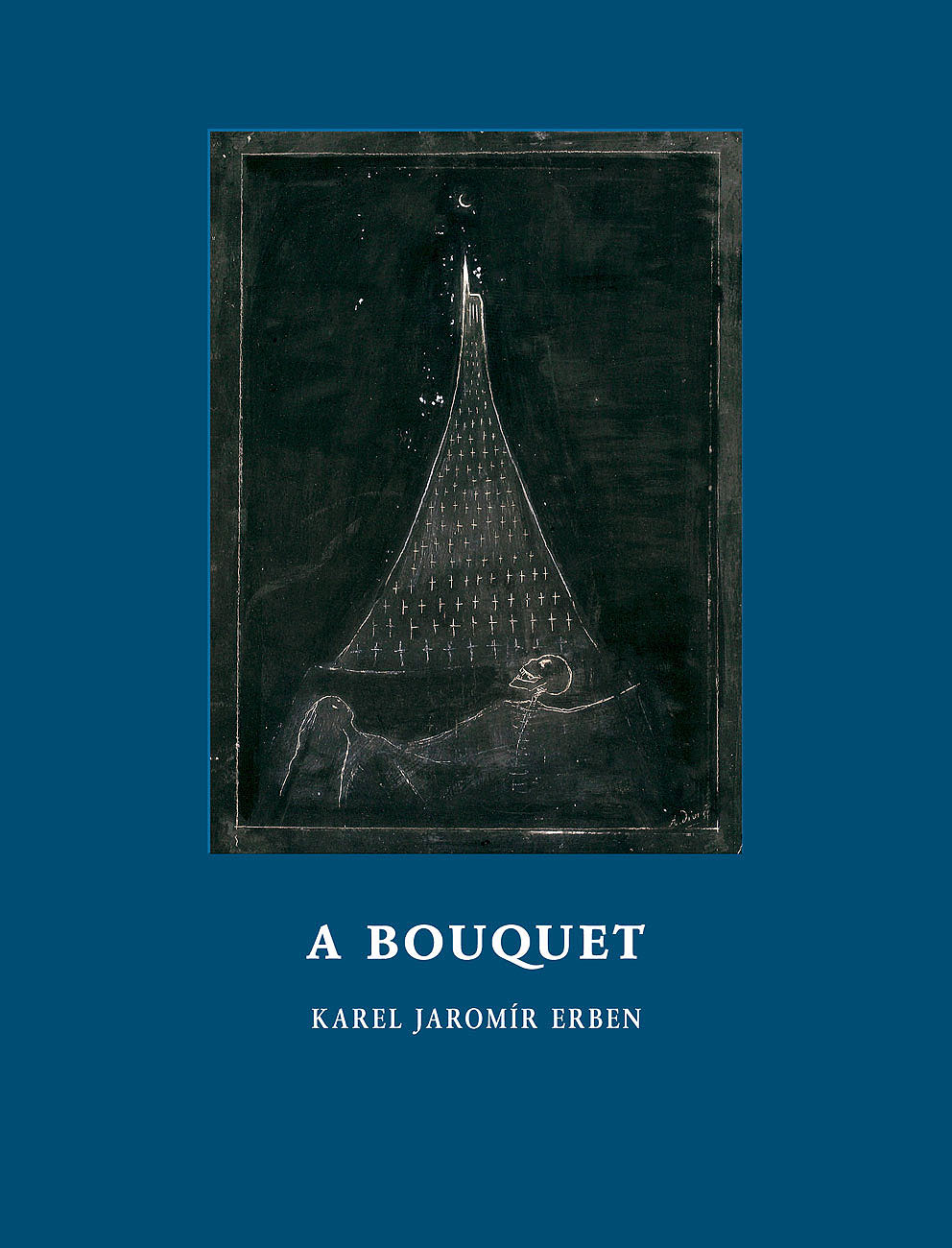 [ excerpt ]

a bouquet
of Czech Folktales
translated from Czech and introduced
by Marcela Malek Sulak
artwork by Alén Diviš

Erben compiled and wrote A Bouquet based on his studies of Slavic folklore. First published in 1853, it is dotted with murder and mayhem : graves opening and the dead walking the earth, the animate becoming the inanimate and vice versa, ogres and monsters of lake and wood, human transformations reminiscent of Ovid's Metamorphoses. Written as ballads, Marcela Sulak's new translation perfectly captures their cadence and rhythm in an English that is fresh and energetic. Through the years A Bouquet has come to be regarded as a masterpiece and wellspring of inspiration to artists of all stripes, including Antonín Dvořák, who composed a series of symphonic poems to some of these tales. Of the many illustrators who have contributed to the various editions that have appeared over the past century and a half, Alén Diviš's artwork is generally considered the most powerful. This edition also includes Erben's own notes explaining the origins of many of these tales.



What others say:
Sulak's translation admirably and faithfully renders the content while also tending to the various meters and rhyme schemes that mark Erben's poetic style. The artwork by Alén Divíš helps set the tone for the text by emphasizing its darker and more foreboding elements. Readers new to Erben and nineteenth-century Czech literature will find her introduction helpful for explaining the origins of the text and its place in the Czech cannon. Those readers interested in folklore, especially tales with Slavic and German roots, will find the inclusion of Erben's notes particularly illuminating. ... [T]his is a welcome much needed translation for readers interested in Czech literature, nineteenth-century poetry, and folklore.
— Esther Peters, Slavic and East European Journal


Handsomely produced by The Twisted Spoon from Prague, this intriguing collection of ballads and folktales ... brings alive a folkloric world where sacred trees and the Prophetess walk with lakes and children. The full-color artwork by artist Alén Diviš (1900-56) is at once harrowing and stunning.
— Greta Aart, Cerise Press


The thirteen tales that comprise Erben's Bouquet are elegantly simple, yet understatedly and fantastically complex. Twisted Spoon's book design is beautiful, and the accompanying illustrations are hauntingly brilliant. Readers are reminded of the myth and meaning imbued into cultural narratives that surround folk tales and can easily appreciate A Bouquet's characters, its stories, and the humanistic drama they enact.
— Lydia Pyne, New Pages


These poems are horrifying and beautiful, in the sense Baudelaire touched on when he wrote: "Strangeness is a necessary ingredient in beauty."
— Stephan Delbos, BODY


Filled with poems that will delight, intrigue, and horrify, Karel Jaromír Erben offers singable interpretations of Slavic folklore that makes A Bouquet a must for every literature lover.
— Richard W. Jackson, BookHugger


The thirteen tales in A Bouquet are not radically different from the Anglo-Saxon or specifically American folktales which might be more familiar to an English-language reader, although they certainly contain elements unique to their Bohemian origins. Also, Erben's poetry (via Sulak) is a delight to get lost inside. At times whimsical and funny, at others serious and measured.
— Michelle Bailat-Jones, Necessary Fiction


The outstanding piece for me is "Zahor's Bed," which combines allegory, great narrative energy and lyrical description of a very high order to produce a religious fable that is at once mysterious, compelling and very moving; the kind of writing that leaves you rippling with delicious shivers of pleasure and remains pulsing in the soul for days afterwards.
— David Birkett, DB Book Blog


Many of the poems echo ballads and folk tales we know from other parts of Europe. ... All in all, A Bouquet's distinctive Central European flavor enriches our general store of European tales.
— Jim Kates, The Arts Fuse




ISBN 9788086264417
174 pp.
14.5 x 19 cm
hardcover w/ ribbon marker
5 full-color illustrations
poetry : folklore
RRP: $22.50 • £16

release date:
December 2012


Order directly via PayPal
price includes airmail worldwide
$22
or order from:



Book Depository

Bookshops
Indiebound
Bookshop.org
Bookshop.org UK
Amazon US
Amazon UK

Central Books

e-book
Amazon US

Amazon UK

Amazon Canada
Amazon Australia
Amazon Germany

Amazon India
Amazon Japan
Apple iBooks
Kobo