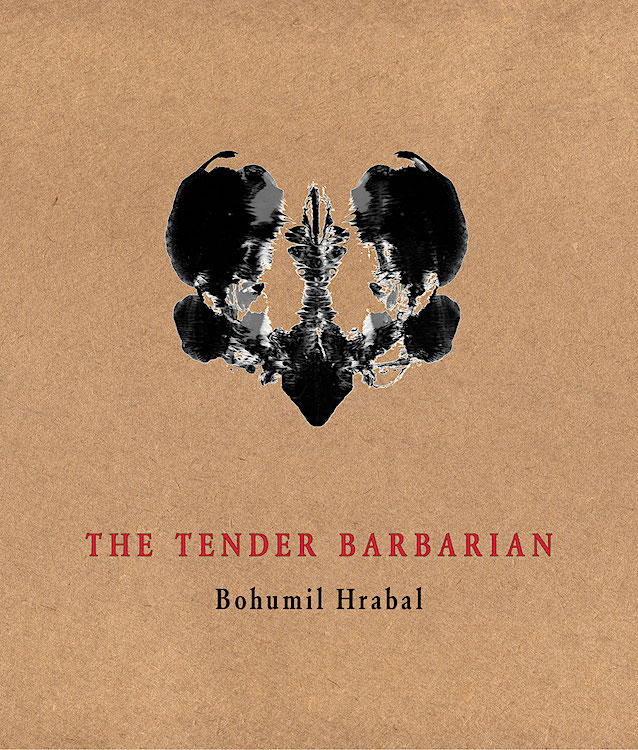 [ excerpt ]
series: image to word

Read:



other work by the author

from TSP:
Total Fears

from others:
Closely Watched Trains
Too Loud a Solitude
I Served the King of England
The Little Town Where Time Stood Still
In-House Weddings
Dancing Lessons for the Advanced in Age
Harlequin's Millions
Murder Ballads & Other Legends


the tender barbarian
Pedagogic Texts
Explosionalist texts and artwork by Vladimír Boudník
afterword by Vladislav Merhaut

Hrabal met the graphic artist Vladimír Boudník in 1950 while both were part of a work brigade at the Kladno ironworks. At the time, Boudník was living in a garret without any basic amenities, including heat. So with winter approaching, Hrabal offered to sublet him a room in his apartment in Prague's Libeň district, and from December 1950 to April 1952 they were roommates. Many other artists and writers would frequently pop in, including the avant-garde poet Egon Bondy. And the three were more often than not in the pub talking about art and philosophy over beer.

The Tender Barbarian is a series of texts that on the one hand pays homage to Boudník, who committed suicide, perhaps involuntarily, in late 1968 just a few months after the Soviet invasion of Czechoslovakia, and on the other presents a fictionalized account of their life during this period in this place – the Libeň district – with Bondy acting as Boudník's foil. All three had been influenced by Surrealism in the 1940s (Karel Teige had called some of Hrabal's early poetry "tender Surrealism"), but by the early 1950s they were each trying to move beyond it: Bondy and Hrabal with Total Realism and Boudník with Explosionalism, an associative method of graphically interpreting random splotches and spots. Each was governed by Lautréamont's dictum that "poetry must be made by all." The book's title reflects Boudník's character, an active spontaneity and obscenity blended with hypersensitivity and empathy, someone in a state of grace for whom a Buddha-like simplicity comes naturally. And for Bondy, who is poring over books to learn how to achieve such a state, this becomes a never-ending source of frustration and admiration, to which he reacts with streams of vulgarity. As Hrabal put it: "I saw two people with the thumbprint of God on their brows: Vladimír and Egon Bondy."

Hrabal noted that when he sat down in 1973 to write something about Boudník for an exhibition and samizdat publication to commemorate the fifth anniversary of his death, he just kept writing and writing. And the main section, "The Tender Barbarian," does read almost like an automatic text as one episode spills into another. Whether or not the book itself should be called a novel, fiction or non-fiction, or both at once, it is a compelling testament to a period and a group of friends who lived for and in art and managed to find the marvelous even in the dungheap that was Stalinist Czechoslovakia. This edition is complemented by texts and full-color images from Boudník's Explosionalist period.



What others say:
What Hrabal wrote about me and Vladimír is pure invention, all of it, an authorial fabulation, a complete fabrication.
Explosionalism: Seismograms of nerve impulses rendered into concrete forms.
— Vladimír Boudník


The axe ... this is the eternally young grandfather of the jackhammer, the hydraulic press, the metalworking lathe, the grinding machine.
— Aleksei K. Gatsev




ISBN 9788086264523
170 pp.
32 pp. full-color art
4 halftone ill. 17 x 20 cm
softcover w/ flaps
literature : art
RRP: £17.50

release date:
October 23, 2019

Not available in
the US & Canada


Order directly via PayPal,
price includes airmail worldwide

pre-orders will be
shipped in September
€21
or order from:



Book Depository

Bookshops
Amazon UK

Amazon Australia
Amazon Germany
Central Books