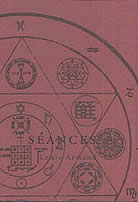 [ excerpt ]

also by the author:
Contemporary Poetics
The Garden



seances
by Louis Armand

Seances, composed between 1993 and 1997, represents the first full-length collection of poetry from Sydney-born writer Louis Armand. Compared favourably to French poet Yves Bonnefoy, Armand has attracted growing attention from editors and the reading public alike, particularly in his native Australia where his work has recently gained hard-won approval from the "literary establishment." Felicity Plunkett of Siglo describes Armand's poetry as "both daring and serious at the same time."



What others say:
Armand pursues the complex challenges language poses and his own language is luminous and original, both in structure and in poetic form ... The poems in this collection are sparse in style and written with great expertise. Many rank among the best work written anywhere ... a superb collection ...
— John Millett, Poetry Australia


There is something glittering in this poetry, there are accurate and sometimes surprising images and intensive feelings: this is a very frank poetry.
— Miroslav Holub


Louis Armand seeks to create a different kind of poetry. A voice that is both immediate and reflective, vital and residual. His is a poetry of extraction and distillation that merges myth and presence, that is elegiac and celebratory, ironic and sincere. The contradictions are there, the paradoxes are established, and the lyric intertwines with rhetoric. There is also a determined intelligence steering a dark passion. It is confronting work in subject matter and technique. Seances is an unusual book. I've read nothing like it before. It takes risks. And this is exciting and necessary.
— John Kinsella, Salt


The success of this collection is its collectedness; each poem is truly in conversation (albeit a nonlinear, often obscure one) with another.
— Sandra Miller, Chicago Review


Armand is one of these rare poets, Australian or not, to whom the poem exists purely as an organic geography, terrain to be discovered and spelunked and climbed and sunk into and conquered.
— The Boston Review




ISBN 9788090217188
76 pp.
13.5 x 20 cm
softcover with flaps
full-color frontispiece
poetry

release date:
March 1998


order from:



Book Depository

Amazon US
Amazon UK
Amazon Canada
Powells
Central Books