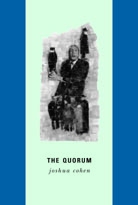 [ excerpt ]

also by the author:
A Heaven of Others
Aleph-Bet, An Alphabet
for the Perplexed
Text: Ur
Witz


author events:
go here


the quorum
by Joshua Cohen

Because we shouldn't believe in nations, because we have forsaken our traditions or our traditions have forsaken us, because only individuals matter to those who happen to be one ... because everyone has their own voice and we're all speaking at once, connected through a disconnect and yet still insisting on our fundamental differences, that we're special, marked by virtue of our sheer existence ... Because of all these paradoxes — screaming into each other through any ear and enacting a love-death in the gray middle — how can we truly expect to listen when we want only to be heard? But what is there to say that hasn't already been ignored? — these are some of the ideas that this book does not address.

Joshua Cohen has performed in-depth investigations into mirrors and navels to return with The Quorum, his first collection of short fiction. A set of ten stories, a set of dreams, and a long monologue, these are all first-person rants given over by the somehow alienated, individuals seeking only a sympathetic hearing, all dealing with identity and religion as well as occupied with technical ideas of reliable narration and the structure of the mind's ear. From a review of a book about the Holocaust that's six-million blank pages to a suicide note from a young university student, from a letter to home outlining an economy based on hair to a eulogy for a poem, from a story narrated by three-hundred concubines to the title story about a group of people who interchange appearances, habits, proclivities and talents, The Quorum is a sensitive and inevitably absurd take on the individual's lifelong quest to get someone, anyone, to listen.



Cohen writes with a purpose and clarity that belies his youth, but with all the ferocious energy of inexperience ... In this collection, [he] employs the destabilizing irony and complexity of the best innovative writing to reach toward [...] the "perpetual": the idea that some consistent, underlying truth does, or should, exist.
These are formidable stories indeed—demanding full attention every sentence.
— Michael Disend
author of Stomping the Goyim


The blasphemous Hegelian synthesis Cohen's continually undertaking puts the balm of his irrepressible lyricism on the ancestral wound. It's difficult, as the writer-narrators often admit, not to pile on the prose bandages too thick.
— Village Voice


I think it is an amazing book and YOU deserve and will find a wide readership.
— Tsipi Keller, author of Jackpot


A fine piece of writing.
— Raymond Federman


Cohen is probably the most serious non-Czech writer to come out of Prague in recent years. When he wasn't stirring up trouble at the Prague Pill (RIP), he was stirring up dust at home, in his tiny basement flat in Old Town, working deep into the night like the demented alchemists who came before him. I call him an alchemist because that's what he does in his work—he takes those shitty inevitable bits from the world around him and turns them into golden nuggets of metaphysical brilliance.
— Think *again




ISBN 9788086264202
193 pp.
13.5 x 20 cm
softcover with flaps
1 B/W illustration
short fiction + novella

release dates:
UK: January 2007
US: November 2005


Order directly via PayPal
price includes airmail worldwide
$14
or order from:
Book Depository
Bookshops
Indiebound
Bookshop.org
Bookshop.org UK
Amazon US
Amazon UK
Central Books