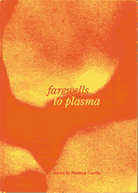 [ excerpt ]

author events:


about the translator:
W. Martin is a doctoral candidate in Comparative Literature at the University of Chicago. He hast taught at the Writing Program, School of the Art Institute of Chicago, and has served as an editor of Chicago Review, for which he compiled a special issue on Polish literature in the 1990s. His translations of prose and poetry from both Polish and German have appeared in a number of literary and scholarly journals, and he is the translator of Michal Witkowski's Lovetown.


farewells to plasma
translated from the Polish by W. Martin

Few Polish prose writers of the past ten years have attracted as much delight and bewilderment as Natasza Goerke. Her stories, which are commonly fastened with predicates like "surreal," "grotesque," "ludicrous," "ironic," and "extravagant," call to mind the absurdist and parabolic work of Daniil Kharms, Slawomir Mrozek, Clarice Lispector, and Antonio Tabucchi. Although her reluctance toward straightforward narration, her refusal of any "responsibility" on the part of the writer to provide metaphysical product for the national masses, and her involvement with esoteric perspectives such as Buddhism and Asian cultures generally, all have caused less avant-garde-friendly critics to shake their heads in consternation, her erudition and extremely fine feeling for the Polish language have earned her recognition from all quarters as one of the most innovative and important voices of the younger generation.
(from the Translator's Note)

Farewells to Plasma is a selection of short stories and prose from the three volumes Goerke has published in Polish.



What others say:
Many of the pieces are informed by Goerke's exposure to eastern philosophy, and are more akin to the koan of Buddhist literature than traditional western storytelling. Many of them resist simple interpretation. Goerke gives us tantalising glimpses of traditional structures, such as narrative, cause and context, only to repeatedly pull the rug from under us.
— Andrew Barnes, Belletrista


Natasza Goerke refers to a reality that understands itself as a game of appearances.
— The Copenhagen Journal


For me, Goerke's narratives are elliptical more than absurd, circular instead of fragmentary, humorously paradoxical (in their sporting with logic) more than ludicrous, qualities that tend to emphasize extravagant amusement alone. The grostesque features of her fiction participate, not in wild Baroque whimsy, but rather in carefully meditated philosophical tales that illustrate abstract questions or, more precisely, metaphysical enigmas that resemble both Zen koans and the kind of conundrums that at once puzzle Eastern Europeans and make them laugh.
— John Taylor, The Iowa Review


It's difficult to say with any certainty to what degree Natasza Goerke is self-consciously engaging in her Tabucchi-esque venture, but engage in it she does, right on the cutting edge of today's creative writing.
— Henryk Bereza, Gazeta Wyborcza


Love and absence are at the heart of Farewells to Plasma, but they are not alone: Goerke's palette is too broad, her energies too various, for the collection to be so easily pigeon-holed. Goerke writes with verve on all shape and variety of topics. Her characters are travellers, fortune tellers, masochists, talking shadows. They are concerned with the difficulties of reality, of communication, of self assertion. The fictional matrices they are conjured in tend to be short, oddly and cleverly crafted, both pragmatic and dreamy, and crackling with energy. The result is an absurdist-inflected brand of magical realism, akin in its fusion of homegrown and international (often Western, often American) culture and concerns to that set out in the shorter works of Haruki Murakami.
— Rain Taxi Review of Books


A world of classless, countryless, and clueless antiheroes drift through life in a vague state of depression relieved only by the plasma of sensual experience, the lure of the womb, or sleep. Their return to the subconscious is announced by a lack of structure. Reality's gray, amorphous, anonymous core reveals a primal void. The essence of being? Of God? Goerke asks the question with the tragic ferocity of Krzysztof Niemczyk and the complex irony of Witold Gombrowicz.
— World Literature Today


Natasza Goerke writes intricately constructed short texts that though difficult to retain in memory leaves one upon reading them with a wonderful sensation of release . . .
— David Werner, Tages-Anzeiger


The transgression and abolition of borders, the permeation of East and West, tradition and modernity, dream and reality — these are the narrative coordinates of Goerke's universe, teeming with those who are wandering, searching, yearning — and, chiefly, loving.
— Süddeutsche Zeitung


Delightfully extravagant, ludicrous stories that see this world so fiercely and clearly, they see past it.
— Christine Hume


Another comic objectivist has taken Ferdydurke to heart, fierce in her contempt for banality, a hardcore foe to the righteous literalists. The attack on torpid solipsism has swept deep into the fabulous township of "Ips." And if her excellent translator is not mistaken, Natasza Goerke is writing, to suit her singular characters, a prose that moves — for all its dash in odd directions — with a Chekhovian obliquity: in one stroke idiomatic, sensitive, and aloof.
— Christopher Middleton


Her stories knocked me out in the same way that Bob Creeley's did, back in the early 50's, in The Gold Diggers. A wailing new voice that can't be mistaken for anyone else's.
— Bill Bathhurst, Radio Prague


Goerke has emerged as an elusive and subversive talent, troublesome and difficult to classify.
— Grazyna Borkowska, Kresy




ISBN 9788086264158
140 pp.
14.5 x 20.5 cm
softcover with flaps
2 duotone illustrations
short fictions
RRP: $14 • £8.95

release dates:
UK: January 2007
US: November 2001


Order directly via PayPal
price includes airmail worldwide
$12
or order from:



Book Depository

Bookshops
Indiebound
Bookshop.org
Bookshop.org UK
Amazon US
Amazon UK
Central Books