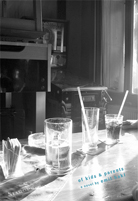 [ excerpt ]

also by the author:
On Flying Objects

Decapolis: Tales from Ten Cities
(anthology)


author events:


of kids & parents
by Emil Hakl
translated from the Czech by Marek Tomin


In Europe, taking a walk is a cultural phenomenon having an almost mystical import. It connects physical activity with meditation, inner silence with the outer tumult of the world. Taking its cue both from Joyce's Ulysses and Hrabal's freely associating stream of anecdote, Of Kids & Parents is about a father and son taking a walk through Prague, over the course of which, and in the pubs and bars they stop into, their personal lives are revealed as entwined with the past sixty years of upheaval in their corner of Europe. One's "small history" is shown to be inseparable from the large history played out on the world's stage: families are uprooted, relationships fail, jobs are gained or lost, and still life goes on. Hakl's genius is his ability to mesh the two into a seamless flow of dialogue.

The father tells his son: "Nothing's been new in this world for more than two billion years, it's all just variations on the same theme of carbon, hydrogen, helium, and nitrogen." Which raises the question: though Prague has witnessed various forms of government, wars, putsches, and revolutions come and go over the course of a century, what really has changed? On the personal level, the same mistakes are repeated over and over, a never-ending freak show.

Currently being translated into most European languages, the novel was awarded a Magnesia Litera Book of the Year prize in 2003 and has been made into a feature film.


Shortlisted for the 2009 Oxford-Weidenfeld
Translation Prize
Voted one of the 7 best books of 2008
by RALPH magazine

What others say:
Of Kids & Parents contains many typical Czech moments of humor, bickering, sarcasm, irony, and prental chides ... It is a delighlful read in both Czech and English. Tomin's transltion flows well, capturing the Czech linguistic nuances and colloquialisms. The English translation was published by the Twisted Spoon Press ... one of the many remarkable books produced by the press.
— Slavic and East European Journal


It's so rich, intense, and full of life. But also highly intelligent and lucid. It says a lot about being human and getting older. About history and how it repeats itself again and again. And about the humans who think they are the crown of creation while they are not. And I shouldn't forget to mention that, at times, it's a very funny book.
It is this vision of Prague that Hakl also wants to convey, where things don't manage to be quite so serious and where you can always count on ambiguity.
Anyone who has ever crawled from pub to pub in Prague — or anyone who wants to — should read this utterly beguiling novel of uproarious surfaces and melancholy depths. ... The father-son dialogue, beautifully caught by Marek Tomin's dancing translation, is a delight.
— Boyd Tonkin, The Independent


... vividly translated by Marek Tomin ... the book reveals the high Czech literary art of rambling on about both grave and trivial topics ... Hakl's absorbing narrative spun out of dialogue and the quality of his prose style amply show that his novel is no ordinary fiction.
— John Taylor, The Antioch Review


Skittishly insouciant, direly funny, this is a small, Waiting for Godot-ish gem.
— Ray Olson, Booklist


It becomes clear that family life has continued despite war aand occupation, communism and now under capitalism, and the characters are thoroughly dispossessed of belief in any grand political system. Along with this political ambivalence, a sense of helplessness characterises their whole outlook. Their own relationship is shot through with an antagonism that they are scarcely aware of, much less able to control.
— Alasdair Gillon, The Edinburgh Review


Of Kids and Parents is very funny from the outset but with a creeping prickle of nihilism that keeps in well with the lazy, sometimes awkward, early evening hedonism. It's sneakily bleak on the subject of love and proves modern history to be bleaker still, but the dialogue between the know-it-all Dad and his narky son should keep your mood very much afloat.
The father is off in his own world and only intermittently can the son truly engage in an exchange, but mostly it's playing along with his father's tangents and memories.  But what is so interesting about his memories is that they provide a framework for the reader as if she were walking through the history of Prague and Eastern Europe. From Communism to Nazi's to the warring Yugoslavia, we are given a quick tour of fighting aircrafts and the destruction of cities and people.
— Salonica


Of all the unlikely venues for a story, this has got to be it: a tantalizing, suck-you-in, lay-you-out, haunt-your-soul moment-by-moment of a father and son walking the streets of the city ... And there they are, like all of us, stuck with those who bore us, unable to escape those who bear us. Cioran once said that our lives are nothing but stories, and that storytelling is the grace that comes from having lived (or even imagined) our lives. Out of the streets of Prague Honza and Ivan have been conjoined in heart and in soul by a writer who can transform all into gold, using a template as rich and as good as it gets.
— The Review of Arts, Literature,
Philosophy and the Humanities


a very enjoyable melancholy read and Tomin's translation keeps alight Hakl's fiery naturalism in both dialogue and description.
Hakl delineates a commonality of experience that links everyone on earth in the sense that we are kids to a certain extent; we all have parents, whether we relate to them or not; we're still kids, even if we're grown, since, to a point, we're products of the cultural and political environment that surrounds us.
— NewPages


What is the state of the Czech Republic from the perspective of these two sharp if not especially politically oriented citizens? Unsurprisingly, perhaps, its morality resembles that of the West, while its culture - despite its older roots and recent communist history - looks westward, too, so that in many respects, while distinctly Slavic, our two friends might well be sauntering about any Continental metropolis.
Hakl has given us a fine, dark novel whose simple premise allows us to explore Prague and the elusive relationship between two unsatisfied and inseparable men.
— Greg Pierce, New Haven Review


[A] very well conceived novel that's very comfortable. It's easy to slide into the repartee between the father and son, and to enjoy their interactions as they move from bar to bar.
To my mind Emil Hakl is one of the more interesting Czech writers today. Even though his reality is firmly rooted in Czech reality, I think he would also appeal to an international readership as his core themes are those that would resonate with anyone.
— Jan Čulik, Britske listy


This virile sentimentality is quite exceptional in contemporary art and is ultimately the real core of Hakl's writing, though at first glance it might seem that this core has been fragmented into anecdotes.
— Jiří Penas, Tyden


We see the progresssion of each character's psyche as the effects of their alcohol consumption take hold. Inhibitions disappear and their conversation becomes more candid and intimate. Yet at the same time their age difference becomes more pronounced and hidden barriers surface. Emil Hakl transcribes his stories from life.
— Lidové noviny


Of Kids & Parents displays Hakl's skill in creating a purely personal depiction of the world around him, stemming the flow of time and capturing great dramas in the miniature of a weary mundanity replete with every shade of emotion.
— Pravo




ISBN 9788086264301
154 pp., 140 x 205 mm
softcover with flaps
fiction : novel

release dates:
UK: April 2008
US: September 2008
order from:
Book Depository
Bookshops
Indiebound
Bookshop.org
Bookshop.org UK
Amazon US
Amazon UK
Central Books

e-book
Amazon US

Amazon UK

Amazon Canada
Amazon Australia
Amazon India
Amazon Germany
Amazon Japan
iTunes Bookstore
Kobo