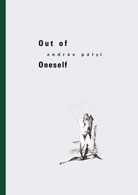 [ excerpt ]

Read more about
Pályi's work here



out of oneself
2 Novellas
by András Pályi
translated from the Hungarian by Imre Goldstein

An enquiry into the nature or eroticism, an unflinching exploration of the physical and psychological aspects of love bordering on sexual mysticism, Out of Oneself is a collection of two novellas that explore two different epochs in Hungarian history through the sexual relationships of its characters. One, an agonizing love triangle between an extraordinarily beautiful stage actress, a young Catholic priest, and a Jewish engineer in the 1930s, the other, the ecstatic union of an auto mechanic-cum-screenwriter and a young movie actress who promises redemption through pure sensuality in Budapest of the 1980s, these form the central constellations for the author's exploration of carnality's relationship to spirituality. Though chronologically separated by half a century, one story resonates with the other through what Pályi calls the "language of the body."

Pályi's characters are passionately searching for a way out of their hapless and sinful world. Each story revolves around a seductive, alluring actress, whose erotic attraction is turned into mythic proportion by the aura of the stage or the screen in scenes of obsessive sexual explicitness. But beyond the focus on carnal relationships, Pályi's writing give us a vivid portrayal of their times: the swan song of the Hungarian "Christian regime" on the eve of World War II, with the specter of the Holocaust looming menacingly, and the disintegration of "goulash Communism" just prior to the changes of the late 1980s. According to Péter Nádas, Pályi "is among those few who see clearly the chaos of the realignment of Hungarian society, a process that has been going on for fifty years ..."

The historical milieu, however, is secondary. Like with most of Pályi's work, his meditation on carnal pleasure places sensuality as the substitute for a transcendence that is absent. The thirst for redemption and transubstantiation exhibited by his characters is quenched only by sex and death.

The current volume introduces to the English-speaking world the "otherness" of a writer — considered to be one of Hungary's leading, though he has managed to avoid becoming fashionable — capable of creating extraordinary atmospheres.

What others say:
These two novellas, set 50 years apart, separately explore the rarefied, if perilous, nexus between sex, spirituality, and death. Both also fixate on the amplified allure of (almost) unattainable actresses and suppose the possibility of redemption through death. In the first, set in the Budapest of the 1930s, a tormented Catholic priest aches for a surprisingly vulnerable stage diva through whom he soars closer to God than he will ever again feel in the pulpit. In the second, the diva's 1980s analogue plunges a young mechanic-screenwriter's life into ecstatic chaos, transforming his guilty conscience into another piece of scenery. These parallel encounters with the "pre-budding ecstasy of nature" may be profoundly religious, or deeply blasphemous, or perhaps both. Historically minded readers not too distracted by Palyi's lush, electric sex scenes will notice that these stories bookend nicely Hungary's totalitarian period and may be conceived as gutsy and exotic, if somewhat minimalist, commentary on the years in between.
— Brendan Driscoll, Booklist


What Andras Palyi does in his potent and flavorful fiction is, as Peter Nadas puts it, "nothing short of tempting God." In his twin novellas "Beyond" and "At the End of the World," Palyi creates a spiritually and sexually charged fictional world ruled by a pair of self-styled goddesses.
— Elizabeth Searle, American Book Review


There is not the slightest doubt that what András Pályi has been doing is nothing short of tempting God. It is impossible to read him without a feeling of reverential dread. He blasphemes, he challenges and wages war against God. As a spiritual author, not only does he belong with Dostoyevsky, Kafka, Buber, Weil, Blixen, and Pilinszky, but, except for Kurtág, Pályi is the only contemporary Hungarian mystic writer.
— Péter Nádas


No chance motifs here (and no innocent ones, either!), there is sin, therefore there is also law which can be violated. He is passionately attached to objects and, even more, to matter, to anything perceivable by the senses. He is one of the most important figures of contemporary Hungarian literature. András Pályi is inimitably good. Recommended way of reading him: with bated breath.
— Péter Esterházy


Alongside Péter Nádas, Pályi is the sole consistent cultivator of ecstatic prose in Hungary.
— József Tamás Reményi, Népszabadság


Pályi's heroes cross over to the other side of the complete bodily experience. They cross the void as well, which destroys them. They cannot bear the difficult knowledge of the sometimes temple-like, sometimes prison-like bodily existence. In Pályi's masterful narration, their stories remain void of solution.
If you could imagine an Eastern European William Faulkner on powerful aphrodisiacs [...] Out of Oneself might be something he'd write.


ISBN 9788086264219
140 pp.
14.5 x 20.5 cm
softcover with flaps
fiction : novellas

release dates:
UK: January 2007
US: April 2005


Order directly via PayPal
price includes airmail worldwide
$12
or order from:




Amazon US
Amazon UK
Amazon Canada
Amazon India
Amazon Germany
Indiebound
Powells
Central Books

e-book
Kindle US

Kindle UK

Amazon Canada
Amazon Australia
Amazon Germany
Amazon India
Amazon Japan
iTunes Bookstore
Kobo