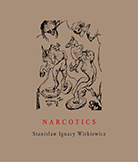 [ excerpt ]
series: image to word 2

More on the artist and his use of psychoactives here


also by the author:
Insatiability
The Witkiewicz Reader
The Mother and Other Unsavory Plays
Seven Plays


events:



narcotics
Nicotine, Alcohol, Cocaine, Peyote, Morphine, Ether + Appendices
by Stanisław I. Witkiewicz (Witkacy)
translated from the Polish by Soren Gauger
artwork by the author
For his "portrait painting firm," Witkiewicz established rules and types for his portrait work, marking the paintings and pastels with corresponding symbols and abbreviations of the substances he had either taken or, in the case of alcohol and nicotine, not taken at the time. Type C were created under the influence of alcohol and "narcotics of a superior grade" to produce abstract compositions he called "Pure Form." A variety of drugs and their combinations were taken to produce a variety of distortions and effects, and often this would be the portrait subject's choice. And in some instances a given portrait might be marked with symbols denoting how many days he had gone without smoking or without drinking (and type D were executed to achieve the same results without any artificial means). Different substances resulted in different color combinations or brought out different aspects of the subject's features or psyche. One stunning series of self-portraits, for example, was executed while on a combination of moderate amounts of beer and cocaine.

In the vein of the well-known drug writings of De Quincey and Baudelaire from a century earlier and those of his contemporaries Walter Benjamin and Jean Cocteau – and foreshadowing the later writings of Aldous Huxley and Carlos Castaneda on psychoactive drugs – Witkacy composed Narcotics in 1930 to discuss and document not only his own experimentation with different substances but the nature of addiction itself and the prevailing social attitude toward drugs, particularly those that were considered "acceptable." As life became increasingly mechanized, Witkacy felt that a sense of the metaphysical could only be achieved by artificial means, and like Henri Michaux, he produced an extensive oeuvre of singular visual art while under the influence of a variety of substances.

Meandering, acerbic, and burlesque, rife with neologisms and expressions from German, French, English, and Russian, Witkacy dissects Polish society and the art world as well as himself via the hypocrisy surrounding drug use. Since it was first published in the 1930s, Narcotics has achieved a cult status in Poland where it is considered both a modernist classic and a paragon of Witkiewiczian madness. This edition, the first complete translation in English, includes a second appendix written later, passages from the novel Farewell to Autumn, and 34 color reproductions of a cross section of portraits to show how various substances impacted Witkacy's art.



Narcotics' flaws are also its virtues: the text is often rambling, heavily idiosyncratic, has a tenuous grip on fact, and is often used as a vehicle for score-settling and self-aggrandisement by its author. It is compelling, infuriating, sometimes dull, other times provocative and fascinating, contradictory and really unlike anything else. It is also presented beautifully by the publishers, particularly the colour prints of Witkiewicz's work. Narcotics isn't for everyone, but I'm really glad it's out there.
— Thom Cuell, Bookmunch


Witkiewicz's stylistic twists are one of the joys of Narcotics. A moralizing diatribe might veer into medical discourse; private anecdotes might shift into a rant on class theory or a patchy précis of a book about physiognomy. (All delivered in a semi-ironic-yet-wholly-sincere tone).
For better and worse, Narcotics is something of a rambling – and very opinionated – discourse rather than sober analysis. It's certainly an engaging read, and, as a very personal document, offers interesting insight into the character (and, to some extent) his art – and his struggles with narcotics.
— M.A. Orthofer, Complete Review




ISBN 9788086264486
198 pp. (166 pp. text
+ 34 full-color plates)
ribbon marker
17 x 20 cm
hardcover
art : literature : avant-garde

release dates:
UK: February 12, 2018
US: March 19, 2018


Order directly:
airmail postage & handling incl.
or order from:
Book Depository
Bookshops
Indiebound
Bookshop.org
Bookshop.org UK
Amazon US

Amazon UK

Central Books

e-book
Amazon US

Amazon UK

Amazon Canada

Amazon Australia
Amazon Germany
Amazon India
Amazon Japan
Apple iBooks
Kobo