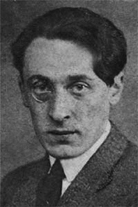 See:
Futurist Pamphlet 1
Futurist Pamphlet 2

More on Jasieński here

Poetry from the Polish Futurists read in the original here
bruno jasieński
Poet, novelist, playwright, Futurist, Catastrophist, Bruno Jasieński was born Wiktor Bruno Zysman on July 17, 1901 in Klimontów, a provincial town near Sandomierz, Poland. His father, a local doctor and social worker, was Jewish, but later converted to Protestantism to be able to marry Bruno's mother, who was Catholic. After attending school in Warsaw, Jasieński lived with his family in Moscow between 1914-18 and graduated from the city's Mikolaj Rej Gymnasium. While here he also came into contact with the literary avant-garde and Futurism. Returning to Poland in 1918, he briefly studied Polish Literature at Kraków's Jagiellonian University and became active in the Polish avant-garde. With the poet Stanislaw Mlodozeniec (1895-1959) and the poet/painter Tytus Czyzewski (1880-1946) he founded the Kraków Futurist group Katarynka (Barrel Organ). The name was meant to suggest the "low art" of the common person and identify these artists with anti-elitist trends in Polish society. To Jasieński, the new poetry should provide an alternative to the literary establishment's outmoded poetic tropes, which he saw as bearing no relation to modern society. This began his output of manifestos, leaflets, in addition to a poetry that was uncommon in Poland at that time. With the Warsaw Futurists, centered around Anatol Stern (1899-1968) and Aleksander Wat (1900-67), he organized public "happenings" around the country.

Considered the enfant terrible of Polish literature by this time and lauded by critics throughout the country, Jasieński in 1923 suddenly declared the end of Futurism in Poland. During that same year he witnessed a major workers' rebellion in Kraków and decided to join the Polish Communist movement, giving public lectures on Marxist philosophy and discussing revolutionary strategies for class struggle. Persecuted by the police, he and his wife, Klara, moved to France in 1925, where they worked as journalists and correspondents for various Polish newspapers. There he formed an amateur theater for Polish workers living in Saint Denis and wrote numerous poems, essays, and books, many of radical bent. He also became an active member of the French Communist Party and spent many hours in libraries researching historical materials on the Peasant Uprising of 1848 led by Jakub Szela in addition to research on Polish folklore and folk songs. The result was The Tale of Jakub Szela, one of his most important poems.

When Paul Morand's (who would later collaborate with the Nazis) short anti-Semitic and anti-Soviet satire, "I Burn Moscow," appeared in Paris, Jasieński responded with his Futurist-Catastrophist novel I Burn Paris, published in French translaton by L'Humanité and immediately translated into Russian (the first Russian edition of 130,000 copies sold out in one day) and published in Polish. This got him deported from France in 1929 on grounds of disseminating dangerous political propaganda. After a short stint in Germany, he emigrated to the Soviet Union and was given high positions in the Communist Party's literary departments, the Union of Soviet Writers, and made editor-in-chief of Kultura mas (Mass Culture), a Polish-language monthly. He soon divorced his wife, who allegedly had an affair with Genrikh Yagoda, head of the NKVD.

Jasieński began to write in Russian and in 1931 completed his first and only play The Mannequins' Ball as well as a few collections of stories and one novel, Man Changes His Skin (1934). By now he was a strong supporter of Yagoda's purges within the literary community, and according to Aleksander Wat, he was active in the campaign against Isaac Babel. Yet in 1937 Yagoda himself was arrested and soon afterward Klara was arrested and executed. Having lost his protector, Jasieński was expelled from the Party, put on trial, and sentenced to fifteen years in the gulag. Thought to have died in transit some time in 1939, it is now believed he was executed on September 17, 1938, in Moscow's Butyrka prison.

His second wife, Anna Berzin, was arrested the following year and spent 17 years in various Soviet gulags. Jasieński's son was stripped of his identity and sent to an orphanage, but managed to escape during World War II. After the war he went on to become a prominent figure in Russia's criminal underworld. Eventually discovering his true heritage, he took a Polish name and became active in various illegal organizations in opposition to the Communist regime. He was killed in the 1970s.

Jasieński's hometown of Klimontów hosts an annual Brunonalia Festival in summer.




published by TSP:

I Burn Paris

The Legs of Izolda Morgan


also by the author:
The Mannequins' Ball

A selection of Jasieński's poetry here