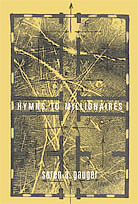 [ excerpt ]

Read a story here

Read an interview
with Soren here

author events:



hymns to millionaires
frontispieces by Cristian Opris

Hymns to Millionaires is Canadian native Soren A. Gauger's first collection of stories. Taking as his raw materials the treatment of the fantastic found in Borges and Kis, the misanthropic musings of Gombrowicz and Bernhard, and a literary understanding of philosophy, Gauger's stories are formally challenging yet very funny. They often deal with the chaotic fragmentation of the individual, who is mindful of both society and literature, while exploring the blank spaces implicit somewhere behind the narrative.



What others say:
[The] tales are told by a maniacally arrested, manipulated, wrested-from-disaster and parodied present, which is merely the meeting-point of any — if not all — possible pasts and futures. Call it the Eternal Return of fiction, and Nietzsche might not have disagreed. While this disjointed narrative approach might sound high and rarified, precious and post, it works and works well.
— New York Press


Soren A. Gauger, a Canadian living in Poland, offers a debut of 11 fantastical stories in this work from a Prague publisher, with echoes of Kafka, Borges and Danilo Kis. The results, at their best, are engaging, funny and thought-provoking ... Gauger delights in subverting expectations.
— The Globe & Mail (Toronto)


Soren Alberto Gauger writes an off-centre, twisting narrative, sparkled with elaborate prose ... delicious descriptives, such as "chiaroscuro macabre" and "whirlpools of Slavic syllables." ... Unsettling.
— The Peak (Vancouver)


Hymns to Millionaires is a debut collection by a young Canadian author living in Poland. His name is Soren A. Gauger, and you'll want to remember it. What a book. [...] Gauger is an uncompromising author willing to raise some big questions no one has asked in a long time.
— Andrew Ervin, The New York Journal News


[S]everal of the stories are really quite good (and unforgettable for all the right reasons) [...] Gauger—a Canadian now living and writing in Poland—occasionally breaks away from or improves upon the influence of his antecedents and achieves some interesting and nearly original results.
— Tim Davis, NewPages


If there is a common thread loosely drawn through Soren A. Gauger's story collection, Hymns to Millionaires, it is madness. "In a mad world, only the mad are sane," is the famous and now semi-cliched quote from filmmaker Akira Kurosawa—Gauger's twist on this aphorism being (to summarize and not quote), "To the mad person, it is the world that is mad." By the last tale it becomes very clear that we have not been dealing with a string of regular fellows narrating crazy circumstances, but have made the mistake of taking our information from the crazy fellows themselves.
— Absinthe Literary Review




ISBN 9788086264189
180 pp.
13.5 x 20 cm
softcover with flaps
1 duotone, 1 halftone ill.
short fiction

release date:
October 2004


Order directly via PayPal
price includes airmail worldwide
$13.50
or order from:



Book Depository

Bookshops
Indiebound
Amazon US
Amazon UK Central Books

e-book
Kindle US

Kindle UK

Amazon Canada
Amazon Australia
Amazon Germany
Amazon India
Amazon Japan
iTunes Bookstore
Kobo