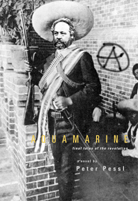 [ excerpt ]

Listen to Pessl's
Reinventing Tibet


author events:


aquamarine
Final Tales of the Revolution
by Peter Pessl
translated from the German by Mark Kanak

Aquamarine is the result of two years' musings following the author's long and twisted journey (both in terms of pathways and encounters) to Mexico in 1993. After having been variously reworked, the volume was eventually published in German in 1998. Considered groundbreaking in form and style, the novel is composed of seven intertwining tales whose unsettling, exceptionally ambivalent female protagonists, "Aquamarine" and "Marine," crisscross diverse Mexican landscapes and cities of both external and internal geographies much like a madcap road movie plowing straight through historical episodes into present-day reality. Along the way we encounter the horrific tragedies of private and political worlds as the tales channel into a common stream of storytelling that is so immediate in its presentation it violently impacts the very language itself (and the immanent possibilities or impossibilities in the author's use of language). The reader is thus swept into a swirling dreamscape of words and images, a ramshackle narrative construct where every kind of reality that is, always was, and will continue to be exist simultaneously.

Aquamarine explores the unfolding of ideas using a palette of blues, yellows, beiges, or "leg-color," ideas coiled like a garden hose with all its kinks, awkward convolutions, and ungainly twists, each loop having its own radius but belonging to the same — is the same — loop. Revolution in every sense.



What others say:
Peter Pessl's art is dreamy. A chaos of individual fragments are brought together so sharply and meticulously that the flickering before the reader's eyes unexpectedly takes shape as an elegiac underpainting. Pessl's technique could be called literary cubism.
— Basler Zeitung


If you've ever dropped acid in the desert with a cabal of mad poets, Pessl's wacky trip through Mexico may feel familiar.
— Publishers Weekly




ISBN 9788086264288
155 pp.
14 x 20.5 cm
softcover with flaps
fiction : novel

release dates:
UK: July 2008
US: November 2008


Order directly via PayPal
price includes airmail worldwide
$13
or order from:




Amazon US
Amazon UK
Amazon Canada
Amazon India
Amazon Germany
Indiebound
Powells
Central Books