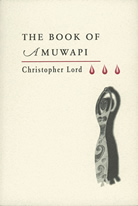 [ excerpt ]

author events:



the book of amuwapi
artwork by Petr Nikl

Amuwapi is the name of a prehistoric god, who lives alone in the Palace of the Moon and weeps ceaselessly. He is associated with tears, with writing, with the sundial, with menstruation, and with a human sacrifice cult which has left traces in the civilizations of the dawn of history — in Sumer, in the Indus Valley, in Egypt, and in ancient China, for instance. It is suggested, though, that the origins of the cult may lie much further back in prehistory. The Book of Amuwapi is a collection of documents from various civilizations and periods associated in some way with the cult of Amuwapi, varying from the legal documents of lost civilizations to Javanese folk tales. Inter-twined with this reconstruction of the Amuwapi cult is the story of the catfish, who meets Amuwapi at the beginning of the book and is advised by him to carry out a search for Love.


What others say:
Illustrated by Petr Nikl in a style recalling the French animation classic Fantastic Planet, Amuwapi is an oddly surreal work which seems like it should be read in a hothouse sweating in the mixed scents of transplanted flowers. Its beauties are similarly synthetic, the folktales removed from their climates and hybridized with children's stories and academic texts. . . . Like the rest of Twisted Spoon's catalogue, it is a beautiful book, and it seems made for the bedtime reading of an ideally morbid young child.
— Paul McRandle, Brainwashed.com


The book presents the myth of a god, Amuwapi, supposed to have arisen inthe ancient Mesopotamian kingdom of Sumer. This is no dry anthropological text, however. Although there are a few learned commentaries, notes and illustrations scattered appositely throughout the book, these enhance by contrast Christopher Lord's artless but subtly written stories, tales and legends, which are the volume's real substance . . . All [the] characters and their different stories fit together as snugly and compactly as a set of Russian dolls, each an intensification and magnification of its predecessor. The book's enchantment grows with each variation of the theme . . . An extra dimension of playful eerieness is added by Petr Nikl's intensely thoughtful illustrations, along with a host of other arcane symbols, inscriptions, and signs, drawn from around the world, which augment the mystery ofthe weeping god.
— The Prague Post


... very imaginative and charming. Good Lord!
— Slavenka Drakulic


It satisfies a hunger for the sardonic, and is an aesthetic pleasure.
— Leslie Bell




ISBN 9788086264141
140 pp.
13.5 x 20 cm
softcover with flaps
8 color, many B/W illus.
fiction : novel

release date:
April 2000


Order directly via PayPal
price includes airmail worldwide
$13.50
or order from:



Book Depository

Bookshops
Amazon US
Amazon UK Central Books