from THE DIARY OF MR. PINKE

by Ewald Murrer

translated from the Czech by Alice Pistková




October 29

Night wanderings in darkness,
a clamped throat anxious.
A bony hand.

The fog dissipated. The whole village ran to the square, gazing upward. Small angels sat in the sky, dramatically playing an organ. Kornilov was the first to wave, then we all waved at them. And the angels waved and called to us.

Then the dog of innkeeper Bem suddenly ascended to the clouds, barking, dispelling the angels, sinner.

We went sadly home. Bem did not speak to the dog, he tied him to a chain and punished him severely.

The rabbi smiled, soothed the old dog, eased his punishment. Then at night, unseen, he allegedly played tarots with him.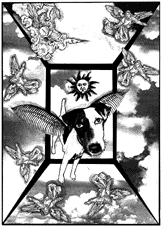 December 5

Tears brought
to my eyes by
the creaking of keys.

Snow fell. I ran off to the white countryside. Elem Ryschon ran at my heels somersaulting grandly. We were happy. It was cold. Pearls pouring out of tattered sacks. Patches rotting in the country. Trees strumming themselves. Lutes in the house windows. Stars glittering in the clouds. A handful of silver in my pockets.
December 6

Drying marzipan,
a kiss of snow.

The forests doubled up, huddling together in coats. It was blowing sharply. Needle after needle stinging, sabers glistening, the army of snow dragging their standards. Everything slouched, slept. The countryside was like a spider's web, on the crossroads stood a table, jugs of milk upon it.
By it a child, a red rose in hand. A red rose in the midst of the snow. I peeped into the windows at the people.
Then I ran farther.
No peace.



© Twisted Spoon Press
Translation © Alice Pistková
Illustration © Helena Vlčnovská