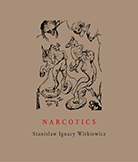 [ excerpt ]
series: image to word

also by the author:
Insatiability
The Witkiewicz Reader
The Mother and Other Unsavory Plays
Seven Plays



narcotics
Nicotine, Alcohol, Cocaine, Peyote, Morphine, Ether
by Stanisław I. Witkiewicz (Witkacy)
translated from the Polish by Soren Gauger
For his "portrait painting firm," Witkiewicz established rules and types for his portrait work, marking the paintings and pastels with corresponding symbols and abbreviations of the substances he had either taken or, in the case of alcohol and nicotine, not taken at the time. Type C were created under the influence of alcohol and "narcotics of a superior grade" to produce abstract compositions he called "Pure Form." A variety of drugs and their combinations were taken to produce a variety of distortions and effects, and often this would be the portrait subject's choice. And in some instances a given portrait might be marked with symbols denoting how many days he had gone without smoking or without drinking (and type D were executed to achieve the same results without any artificial means). Different substances resulted in different color combinations or brought out different aspects of the subject's features or psyche. One stunning series of self-portraits, for example, was executed while on a combination of moderate amounts of beer and cocaine.

In the vein of the well-known drug writings of De Quincey and Baudelaire from a century earlier and those of his contemporaries Walter Benjamin and Jean Cocteau – and foreshadowing the later writings of Aldous Huxley and Carlos Castaneda on psychoactive drugs – Witkacy composed Narcotics in 1932 to discuss and document not only his experimentation but the nature of addiction itself and the prevailing social attitude toward drugs. Yet unlike most drug confessions, Witkacy produced an extensive oeuvre of singular visual art while on a number of substances. According to Daniel Gerould, an early translator of his work, Witkacy felt that "artificial means were a final attempt to recapture, if only briefly, the metaphysical feelings that had been lost to social progress," and unlike most drug confessions, he produced an extensive oeuvre of singular visual art while on a number of substances. This edition, the first complete translation in English, will include a second appendix written later and excerpts from a novel as well as 32 color reproductions of a cross section of portraits to show how various narcotics impacted his art.





ISBN 9788086264486
198 pp. (166 pp. text
+ 32 full-color plates)
ribbon marker
17 x 20 cm
hardcover
art : literature : avant-garde

release date:
UK: February 12, 2018
US: March 19, 2018


Pre-order directly
via PayPal. Price includes airmail worldwide.
Will ship in Jan.
$24.50
or order from:



Book Depository

Bookshops
Indiebound
Amazon US

Amazon UK

Central Books