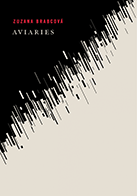 [ excerpt ]

also by the author:



book events:



aviaries
translated from the Czech by Tereza Novická
frontispiece by Rybka Černá

Aviaries is a novella composed of random diary entries, vignettes, dreams, observations, interior monologues, meditations, short anecdotes, newspaper headlines, all of which create, similar to the work of Unica Zürn and Leonora Carrington, a phantasmagoria of the life of a woman navigating a city indifferent to those living on the margins. Interactions with other residents of Prague's Smíchov district, characters who might be figments of her imagination, and the other women in her life – infirm mother, artsy sister, absent, dumpster-diving daughter – have reached a point where the line between fantasy and reality completely vanishes. The death of Václav Havel provides the opening, and from there the prose throbs in a kaleidoscope of news reports, flights of hallucination, wordplay, and metaphoric association to testify to what it is like to be alone and lost and indigent in a world that has stopped making sense, a brutal vision of present-day Prague where life has become a morass of the bizarre and the grotesque with no apparent way out. Brabcová's final book before her unexpected death, Aviaries received the Josef Škvorecký Award in 2016 for best prose of the year and was shortlisted for the Magnesia Litera Book of the Year Award in 2017.



What others say:
A sophisticated testimony about social exclusion that oscillates between diary, dream entries, and phantasmagorical prose.
— Literární noviny


Aviaries has a multifarious form, with the author alternating between short accounts of real events and imaginative stories. There is here a precision of expression pregnant with meaning, in which the core of matters emerge: subtlety and sensibility. Exactly the type of quality virtually taboo today.
— MF Dnes


[Aviaries] puts us in a public sphere that has no use for those who are incompatible with the exigencies of the day, with the culture of youth, success, physical prowess. Brabcová is a superb stylist, and with this short book she has stepped beyond the wall of literary art that seldom allows for this type of social commentary and analysis.
— Respekt




ISBN 9788086264516
132 pp.
14 x 20 cm
softcover with flaps
1 b/w illustration
fiction : novel

cover by Dan Mayer

release dates:
UK: February 18, 2019
US: April 1, 2019


Available for pre-order directly via PayPal:
price includes airmail
worldwide and will
ship in January
$16
or order from:



Book Depository

Bookshops
Indiebound
Amazon US

Amazon UK

Central Books